Raleigh's housing market is ALWAYS booming.
The restaurant scene in Raleigh is enviable.
Move to Raleigh, and "Restaurant Week" will become a familiar phrase every summer. Raleigh is home to many nationally recognized eateries, from high end Second Empire to our novel food halls. Every January, Raleigh restaurants participate in Triangle Restaurant Week by offering special three-course meals and prix fix pricing to show off their best work. Check out all of the food options Raleigh has to offer here!
Education is ranked high.
There are jobs-a-plenty here in Raleigh.
The Southern heat and chilly winters are best.
Raleigh's southern hospitality is as warm as our climate, and our winters are far more temperate than that of other southeastern cities. Plan to dress light June through August, and keep a heavy coat handy December through February. The rest of the year calls for mild climates all around and Raleighites love taking advantage of the pleasant weather.
Our city is multicultural.
Our city is also demographically diverse, with large Black, Latino, and Asian communities. Revisn recommends paying a visit to the annual springtime International Festival located right here in Raleigh to get a glimpse at this strong community engagement. This multiculturalism also benefits our local cuisine, with many restaurants and specialty grocers located all throughout the city.
We take beer seriously...
... about as seriously as our sports.
Raleigh is home to several universities and colleges, but we lay it all on the line for NC State sports. Relocators to Raleigh will fit in well if they're willing to cheer for Wolfpack basketball and football. Our women's teams are nationally renowned, and we're always going head-to-head with rivals UNC and Duke. Even if you find yourself more of a Tar Heel or Blue Devil than a Wolfpack fan, we encourage everyone to show out for their team.
Location, location, location.
You will never have to pick between the beach or the mountains if you live in Raleigh. Both natural attractions are equidistant away from the big city, with our Blue Ridge, Appalachian, and Grandfather Mountains to the West, and our beautiful Outer Banks to the east. Have a vacation spot all year long when you live in Raleigh.
and last but not least, Raleigh has a rich history.
Not only is the Downtown region of Raleigh packed with educational museums, our whole city and region is a testament to our past. The Downtown area is plastered with commemorative plaques, government offices, and living history. Our city also has a rich and deep well of African-American heritage. A fun fact: The oldest home in Raleigh is the Mordecai house, built in 1785, still stands on its original foundation, and was the birthplace of 17th president Andrew Johnson!
Why Revisn?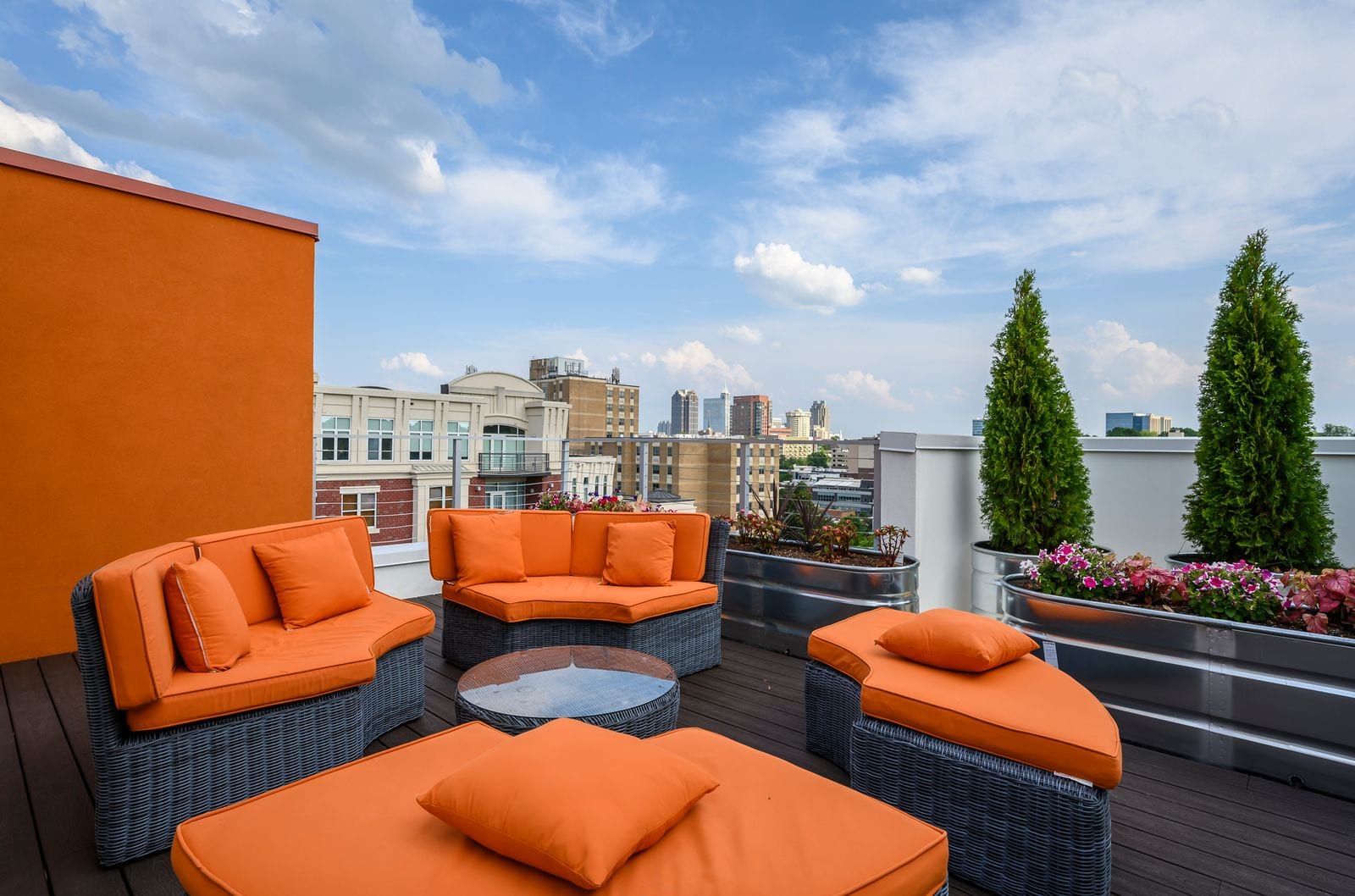 Do you need a short-term, fully furnished apartment in Raleigh with all of the amenities listed below?
If you are preparing to move to Raleigh, North Carolina, choose Revisn short-term, fully furnished apartments as your transitional housing.
Revisn not only corners the market in affordable, fully furnished short-term housing in Raleigh, but we also care about the needs of our guests. Every aspect of the Revisn experience has been designed for the 21st century traveler: the family, the solo businessperson, and the curious tourist.
At Revisn, we love pets! Every guest is welcomed to bring any pet under 40 pounds for a small deposit fee and signed pet agreement. Settle in with your furry friend without relying on a friend or boarding facility.
Advanced technology is not an afterthought at Revisn. It permeates every aspect of your stay while becoming utterly transparent. Control your stay via the Revisn smartphone app. Your smartphone becomes your building and residence access key, your connection to Revisn's 24-hour concierge, your source for dining and shopping recommendations, and your source for controlling every aspect of your residence.
Passionate about saving the Earth? Us too! Revisn's rooftop terrace is fitted with solar systems of 134 modules angled to maximize the amount of sunlight they will receive on its posterior roof. These panels produce 20% of our building's power. This is equivalent of 1,086 tree seedlings planted, 92,397 pounds of carbon offset or 102,722 miles not driven. Check them out for yourself when you stay with us by enjoying some time up on the terrace.
Call Revisn today at 919-999-0160 and take that first step to becoming a North Carolinian.
Fully-furnished, flexible lease residential experience with hotel amenities.Revisn is a perfect executive apartment for guests who need accommodations for 30 days or longer.