The suburbs of Raleigh, North Carolina are some of the best towns in the nation. Our smaller towns are all booming and bustling and make commitments to recreation, commerce, greenspaces, and community. You almost can't go wrong picking one of our excellent suburbs, but Revisn has narrowed down our favorites on this list.
Cary
Population: 166,268
Median Income: $104,669
Unemployment: 3.2%
Topping our list is Cary, North Carolina, the scenic and affluent community just west of Raleigh. Full of single-family homes, great schools, shopping, and some of the best healthcare providers in the state, Cary is a no-brainer move for those looking to stay close to Raleigh. They've got all of your favorite grocery stores (hello Publix, Wegmans, and Whole Foods!) plus one of the most quaint downtown areas of all Raleigh suburbs.
Apex
Population: 51,370
Median Income: $111,435
Unemployment: 3.0%
The number one place to live in America, Apex is one of Raleigh's fastest-growing suburb with a 28% growth rate over two decades. It's an ideal town for families because of its ease of access to Raleigh, Durham, and I-540. Apex loves a community festival or cultural event, so be prepared to get to know your neighbor in this beautiful small town.
Morrisville
Population: 26,280
Median Income: $101,738
Unemployment: 3.5%
Morrisville is not only located near and within the world-famous Research Triangle Park of central NC, it is also a beautiful town to settle down in, especially if you work nearby. Morrisville's growth has skyrocketed by 31% since 2009, and keeps growing, with excellent eats, plenty of nature trails and parks, plus exciting community events. The housing market and job availability keeps families, couples, and singles relocating.
Garner
Population: 29,462
Median Income: $65,064
Unemployment: 4.5%
Fourth on our list is Garner, North Carolina, an up and coming small time with loads of real estate market potential. Garner is closest to Raleigh with a more modest median property price and one of the most friendly communities in the Triangle. Coupled with a selection of basic town amenities like grocery stores, churches, community centers, shopping, and more, we suggest you not count Garner out just yet on your relocation search!
Holly Springs
Population: 34,874
Median Income: $112,029
Unemployment: 3.4%
Under development for the better part of the last decade, Holly Springs is last but not least on our list of suburbs. This town is the safest place to live near Raleigh, and third overall in the nation. Rich in culture, diversity, and things to do, Holly Springs is one of the best suburbs for families and singles alike. The biggest pull? Their robust Parks and Recreation department, which ushered in a $5 million community complex in 2006. You're close to everything in Holly Springs, including just 15 minutes outside of Raleigh.
Why Revisn?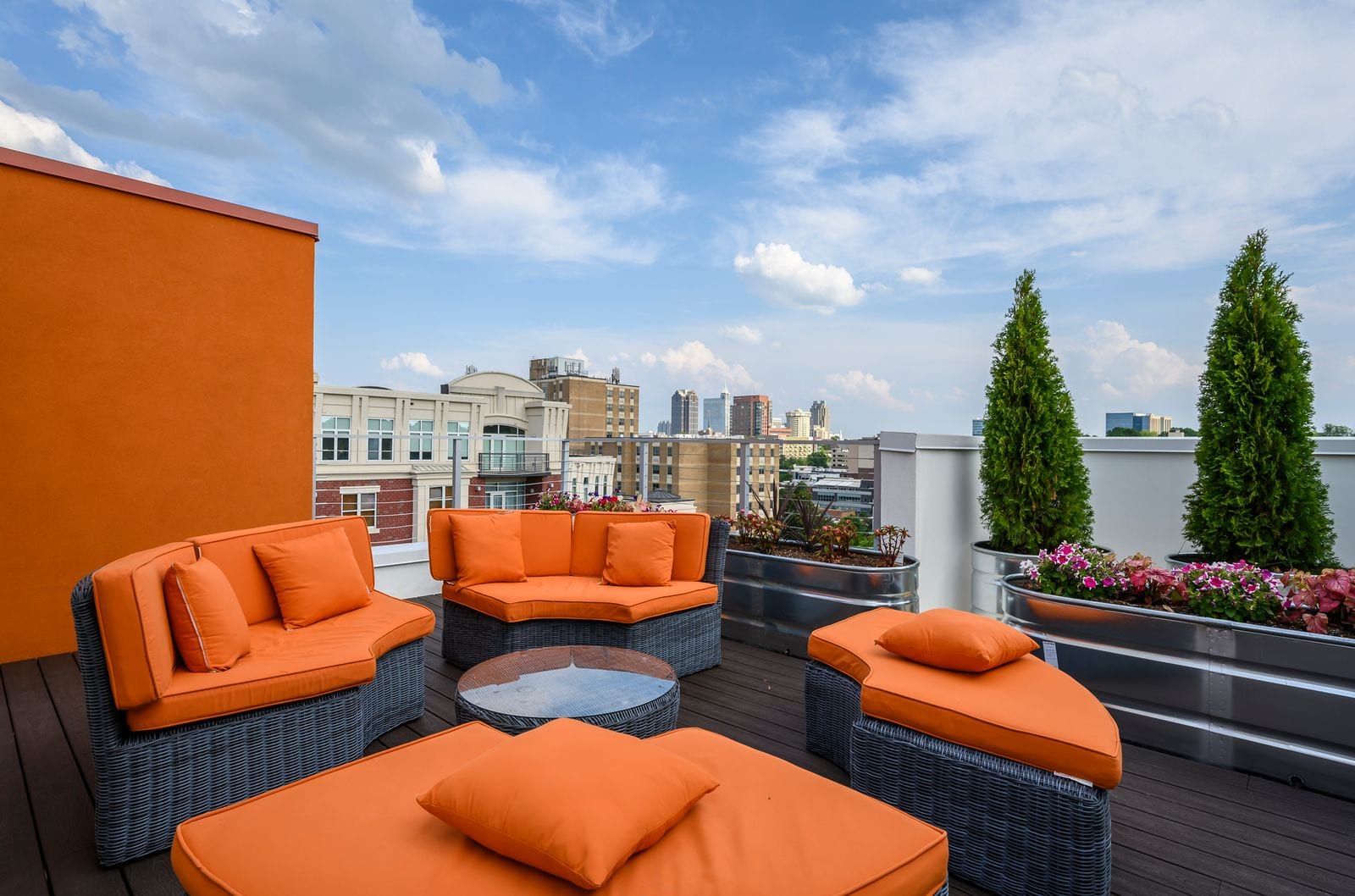 Do you need a short-term, fully furnished apartment in Raleigh with all of the amenities listed below?
If you are preparing to move to Raleigh, North Carolina, choose Revisn short-term, fully furnished apartments as your transitional housing.
Revisn not only corners the market in affordable, fully furnished short-term housing in Raleigh, but we also care about the needs of our guests. Every aspect of the Revisn experience has been designed for the 21st century traveler: the family, the solo businessperson, and the curious tourist.
At Revisn, we love pets! Every guest is welcomed to bring any pet under 40 pounds for a small deposit fee and signed pet agreement. Settle in with your furry friend without relying on a friend or boarding facility.
Advanced technology is not an afterthought at Revisn. It permeates every aspect of your stay while becoming utterly transparent. Control your stay via the Revisn smartphone app. Your smartphone becomes your building and residence access key, your connection to Revisn's 24-hour concierge, your source for dining and shopping recommendations, and your source for controlling every aspect of your residence.
Passionate about saving the Earth? Us too! Revisn's rooftop terrace is fitted with solar systems of 134 modules angled to maximize the amount of sunlight they will receive on its posterior roof. These panels produce 20% of our building's power. This is equivalent of 1,086 tree seedlings planted, 92,397 pounds of carbon offset or 102,722 miles not driven. Check them out for yourself when you stay with us by enjoying some time up on the terrace.
Call Revisn today at 919-999-0160 and take that first step to becoming a North Carolinian.
Fully-furnished, flexible lease residential experience with hotel amenities.Revisn is a perfect executive apartment for guests who need accommodations for 30 days or longer.