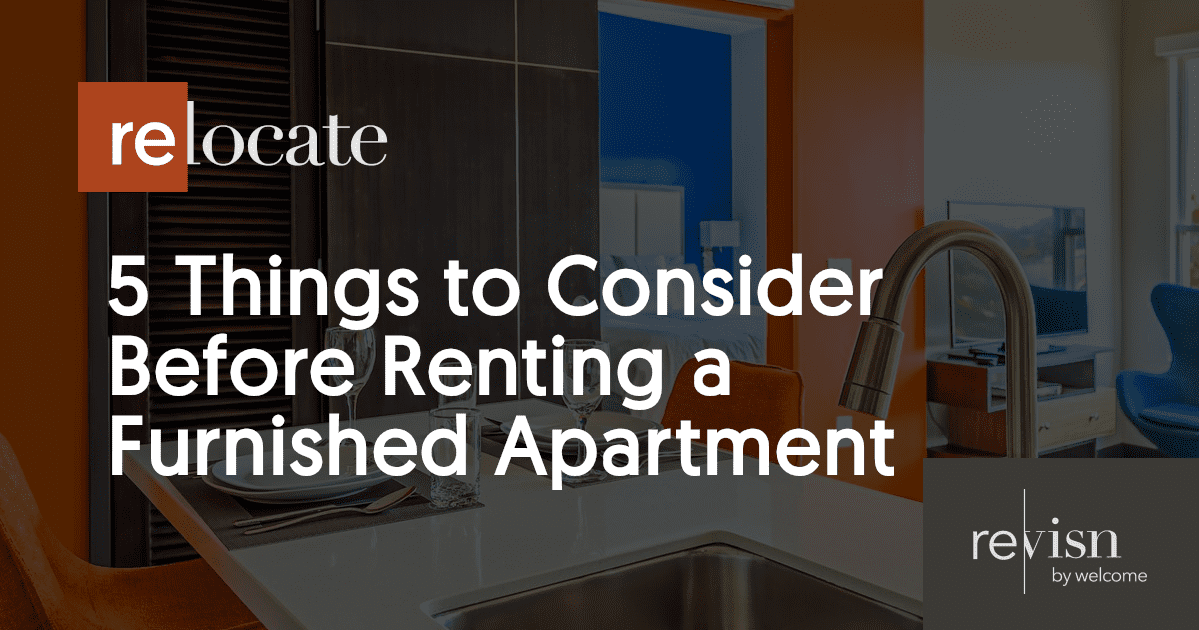 Thinking of renting a fully furnished apartment but don't know what to expect? You may be in-between homes, in town for a new work project, or just scoping out the city to see if you'd like to move. Maybe you have some questions about the rates of your furnished apartment, or specifically what comes included. Revisn is an expert on the subject! Read on to learn more about everything to expect when renting a fully furnished apartment.
What comes with renting a fully furnished apartment?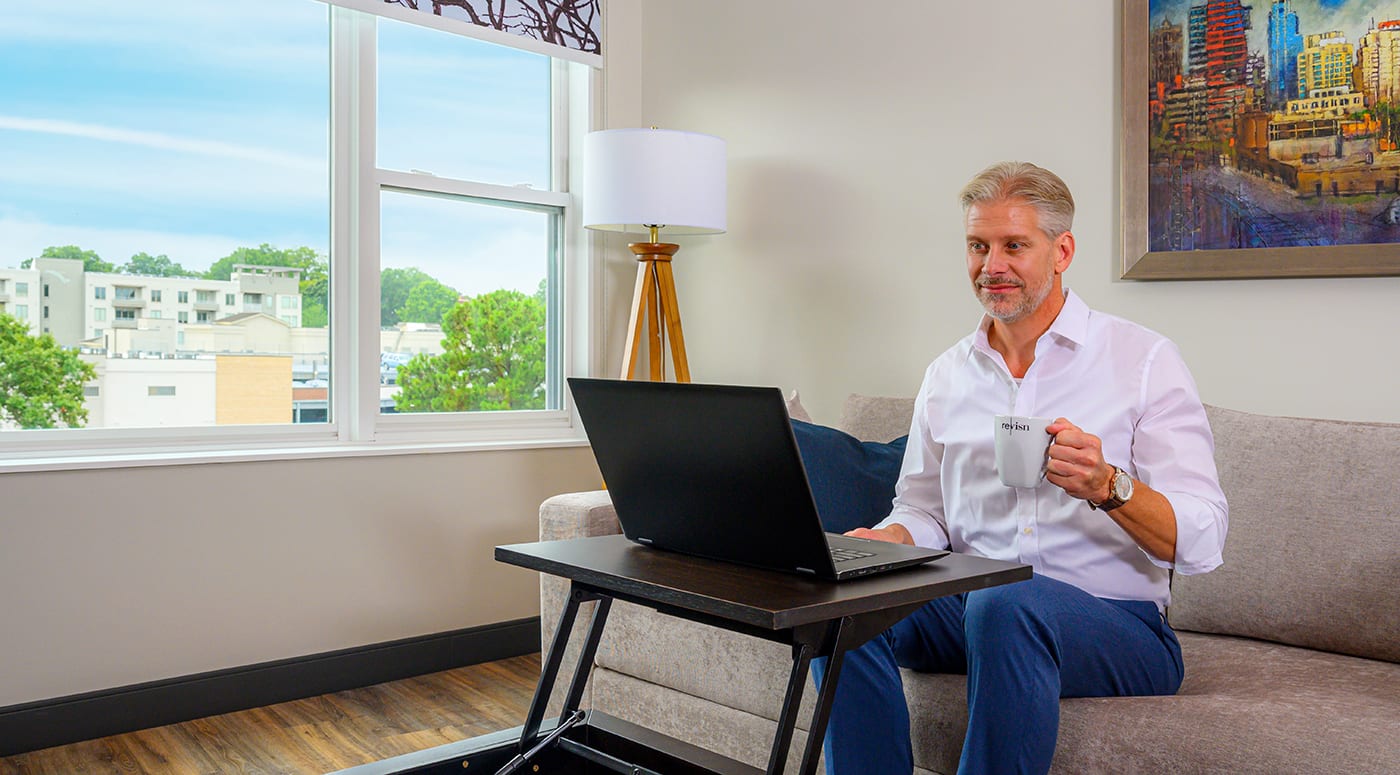 Your experience renting a fully furnished apartment will vary depending on the leasing company you rent from. Typically, all basic furniture you come to expect in a home will be included: tables, couches, chairs, beds, and dressers. With luck, your fully-furnished apartment will also include a fully equipped kitchen as well. At Revisn, our apartments offer far above the minimum with a fully stocked kitchen, themed decor, modern designed layouts and bright, enlivening colors. While most furnished apartment lessors do not include all of the above, we recommend always asking for an inventory list of all things included in the furnishings before committing to a lease. Revisn provides this list to our guests upon request as well.
Can I pick out my furniture while renting a fully furnished apartment?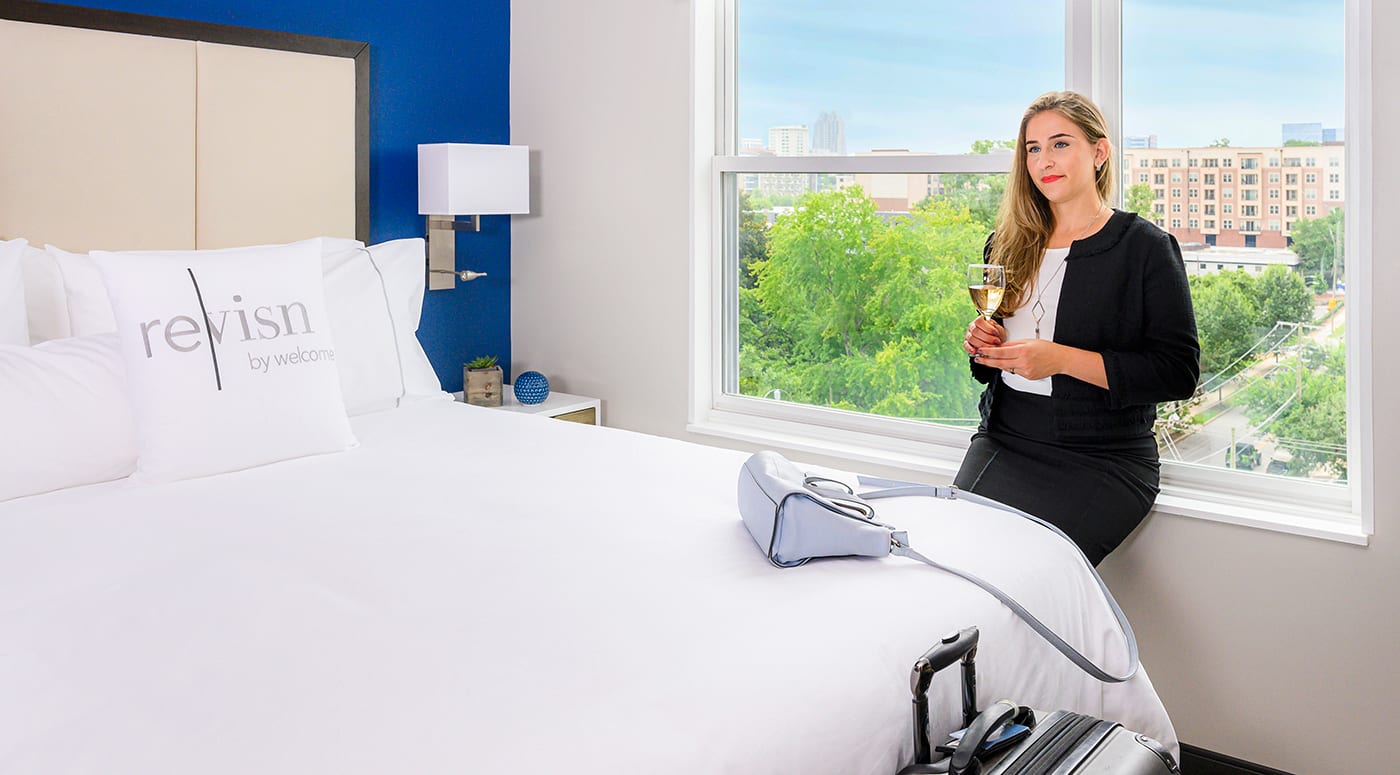 Where are fully furnished apartments located?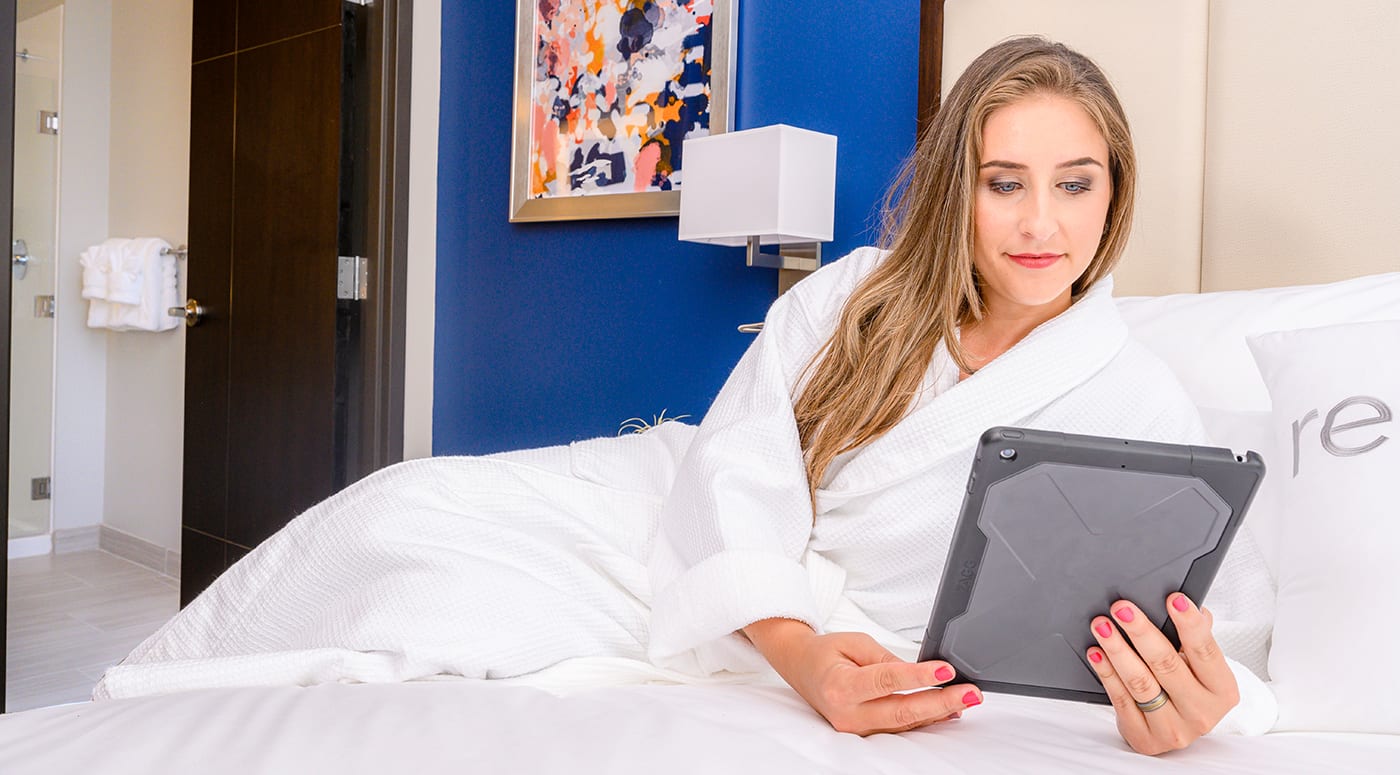 Furnished apartments can be located anywhere! If you're in the United States or even abroad, look in major metropolitan areas for their largest furnished apartment purveyors and lessors. You can also find renting a fully furnished apartment in the suburbs is possible as well, with less options as you move into rural land. Corporate apartments or executive apartments are terms used throughout the world to describe a fully furnished apartment, so include those in your search keywords as well.
How much money does renting a fully furnished apartment cost?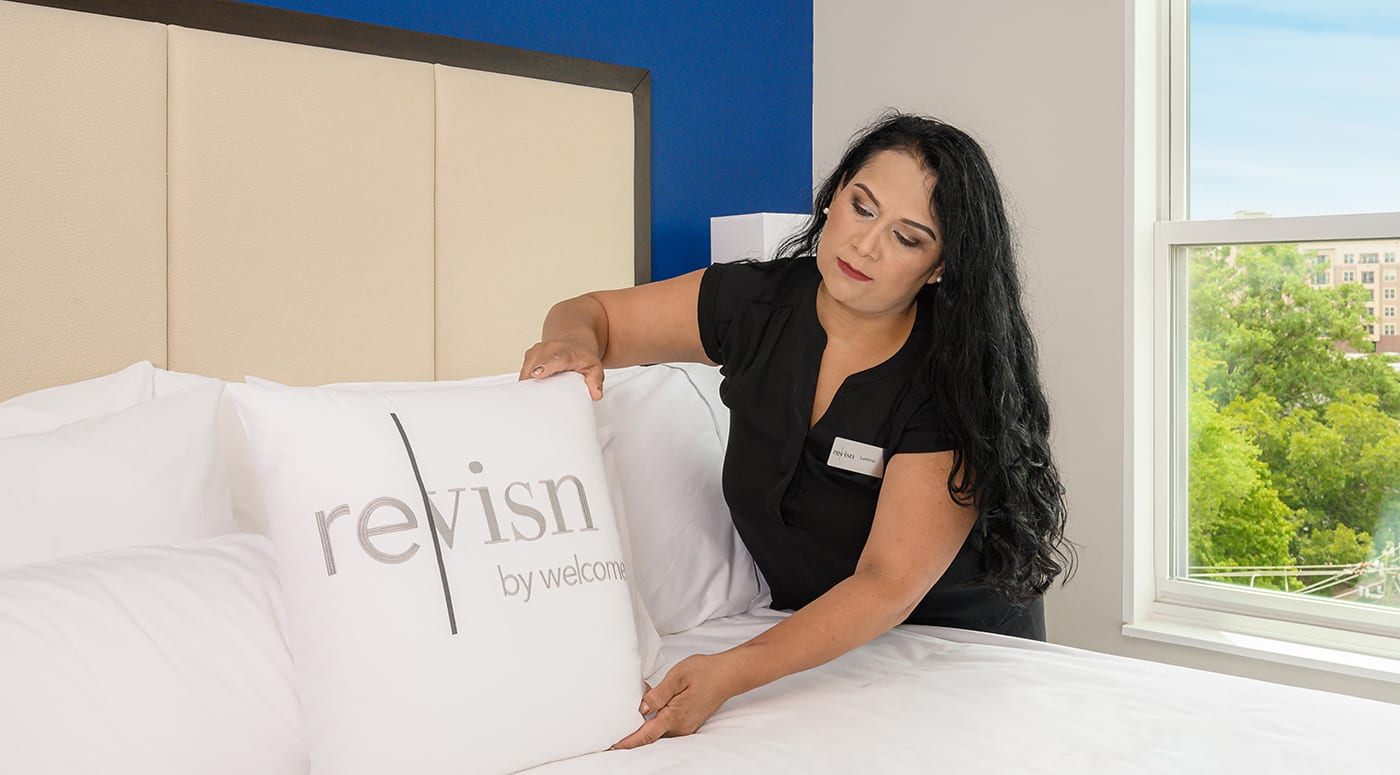 The cost of renting a fully furnished apartment varies. The cost is based on a number of factor: location, size of the apartment, quality and cost of furnishings, and additional fees. Be extra cautious about those additional fees. Some furnished apartment lessors want to nickel and dime tenants on furniture deposits, holding fees, separate rental costs for the space and the furniture, and more dishonest practices. At Revisn, all of our costs are up front to you with no surprises on your monthly charge. The cost you see at check-out is the same thing you'll pay every month once you're in a lease. We don't charge deposits, furniture rental fees, or any other administrative fees.
Is renting a fully furnished apartment better for a short-term stay?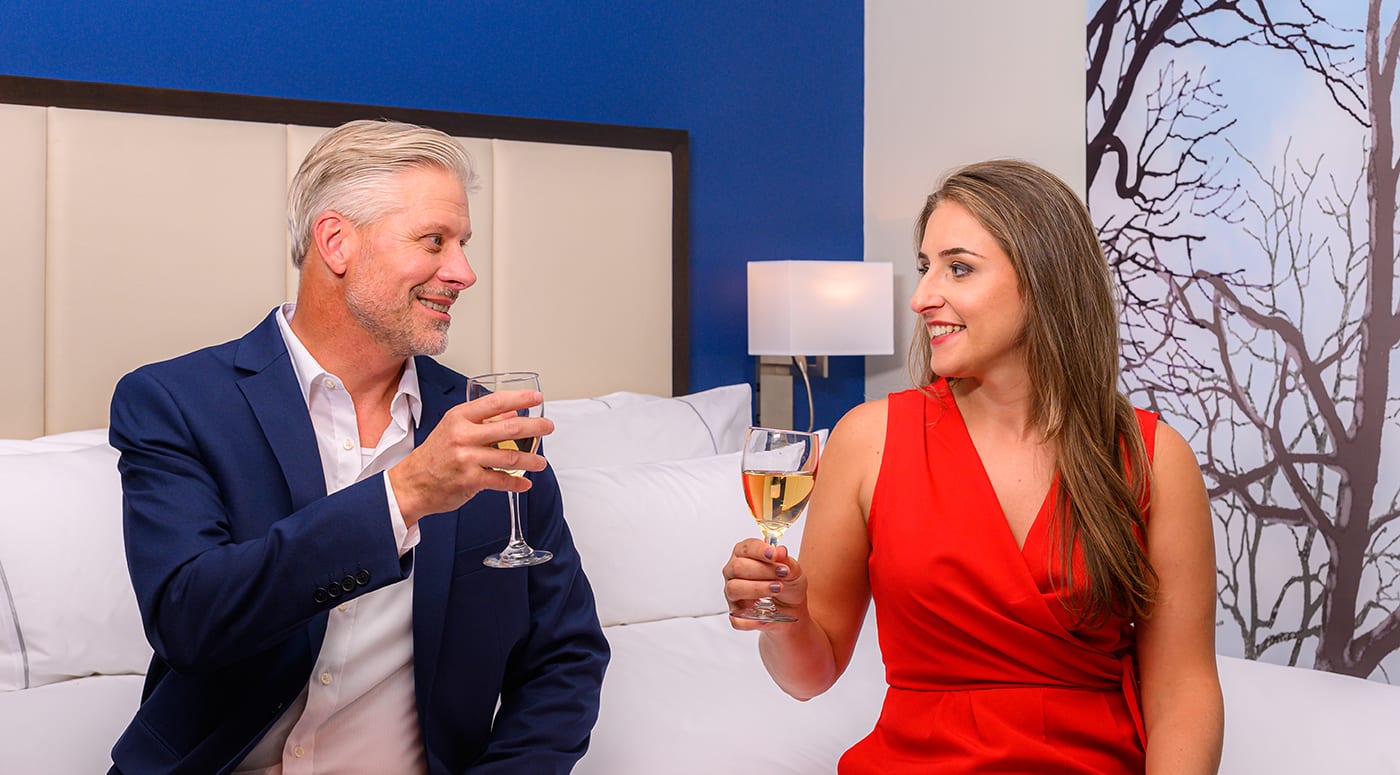 We recommend renting a fully furnished apartment when you plan to stay there less than a year, but more than a few weeks. Most furnished apartments work like hotels in that their rates are nightly and charged in advance, so you should be able to tell the minimum amount of time you'd like to stay before renting. Also, furnished apartments are better for those short-term stays so you don't have to worry about moving any furniture around, hiring movers, or sticking in a spot you can't call home for too long. Revisn furnished apartments are adaptable for 30 days or more, and we have even had guests stay for years at a time. That's because our business model privileges amenities, service, and the 'home-away-from-home' quality you come to expect out of hospitality.
Are you relocating to the Raleigh, North Carolina area?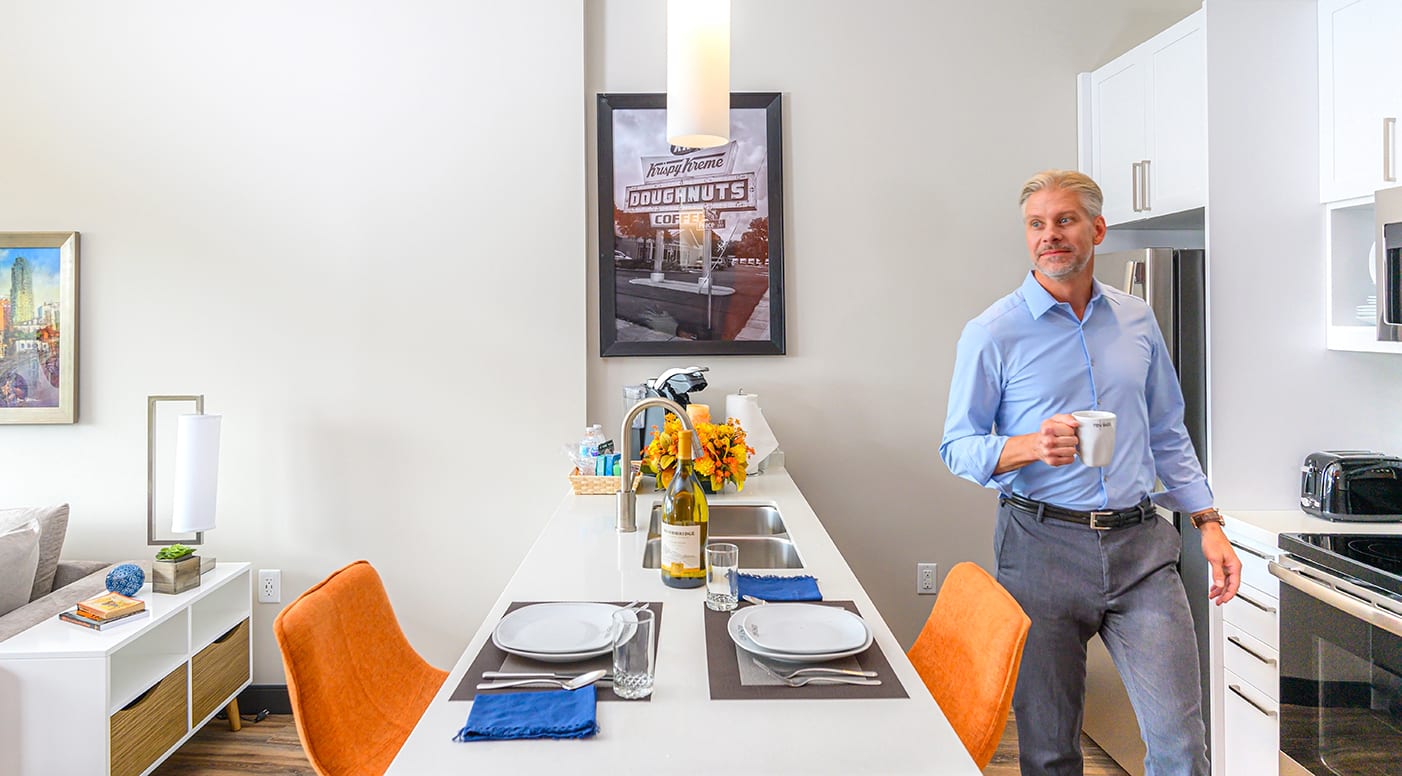 If you are looking to move to the Triangle for a temporary work assignment or to relocate your family into a new home, choose Revisn for your fully-furnished, short term apartment needs.
Revisn not only corners the market in affordable, fully furnished short-term housing in Raleigh, but we also care about the needs of our guests. Every aspect of the Revisn experience has been designed for the 21st century traveler: the family, the solo businessperson, and the curious tourist.
At Revisn, we love pets! Every guest is welcomed to bring any pet under 40 pounds for a small deposit fee and signed pet agreement. Settle in with your furry friend without relying on a friend or boarding facility.
Advanced technology is not an afterthought at Revisn. It permeates every aspect of your stay while becoming utterly transparent. Control your stay via the Revisn smartphone app. Your smartphone becomes your building and residence access key, your connection to Revisn's 24-hour concierge, your source for dining and shopping recommendations, and your source for controlling every aspect of your residence.
Passionate about saving the Earth? Us too! Revisn's rooftop terrace is fitted with solar systems of 134 modules angled to maximize the amount of sunlight they will receive on its posterior roof. These panels produce 20% of our building's power. This is equivalent of 1,086 tree seedlings planted, 92,397 pounds of carbon offset or 102,722 miles not driven. Check them out for yourself when you stay with us by enjoying some time up on the terrace.
Call Revisn today at 919-999-0160 and take that first step to becoming a North Carolinian.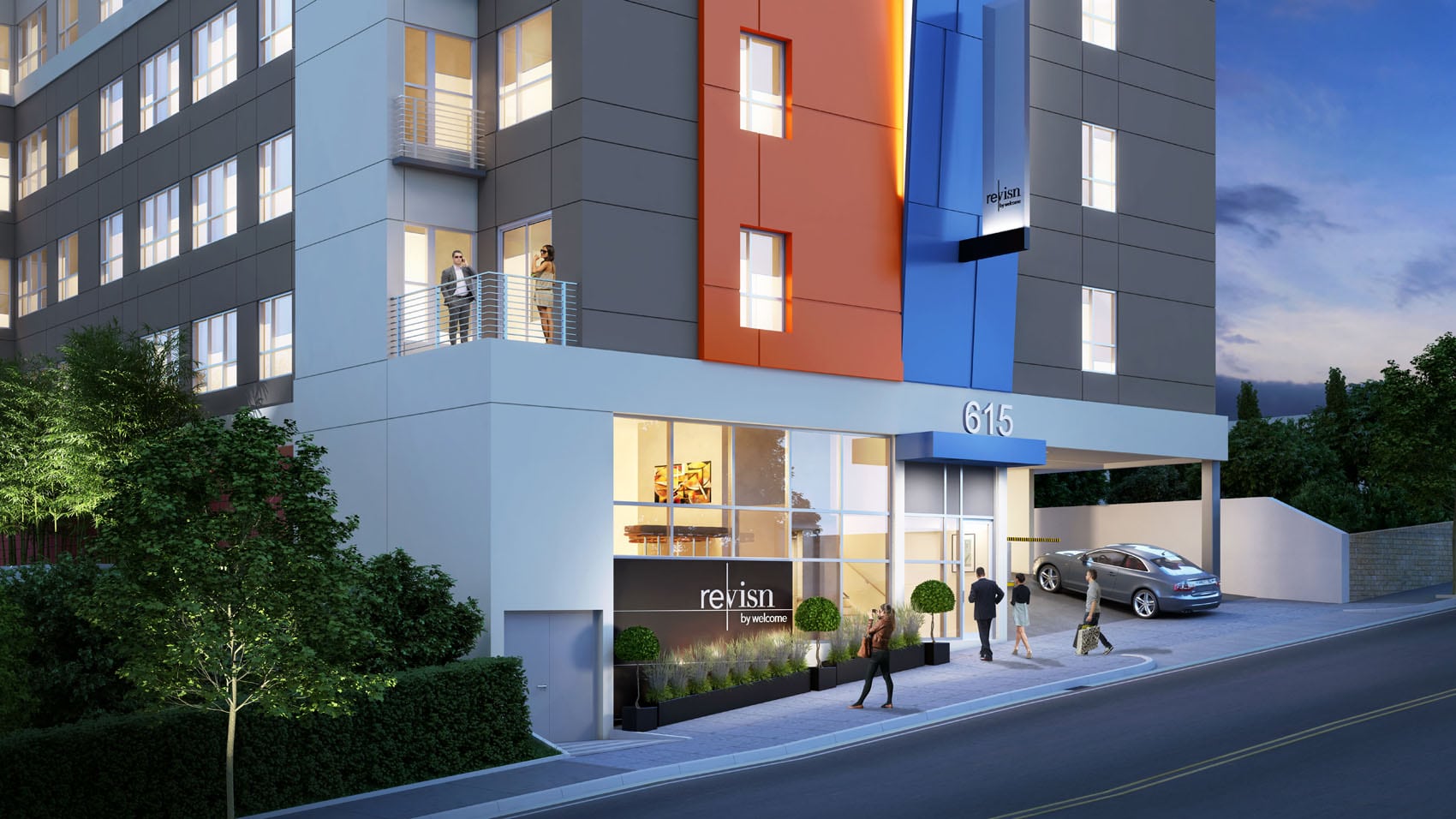 Fully-furnished, flexible lease residential experience with hotel amenities.Revisn is a perfect executive apartment for guests who need accommodations for 30 days or longer.
If you are hoping to pick out all of the drapes, chair upholsteries, and wall colors from a catalog for your fully furnished apartment, think again. A lot less like decorating your own home with a designer, furnished housing comes pre-furnished with a typical array and configuration of furnishings per room or per unit that the lessor owns. More than likely, you'll be stuck with drab furniture used many times over. That's because many lessors do not see the investment in quality! Revisn includes high-style, modern and functional furniture in your one- or two-bedroom apartment. Work with your laptop from Revisn at your convertible coffee table. Let a guest stay over for a night on our pull-out sofa. Close out your day and be greeted with our gorgeous Raleigh Oak Tree custom-designed blinds. We've got exactly what you're looking for in a furnished apartment.