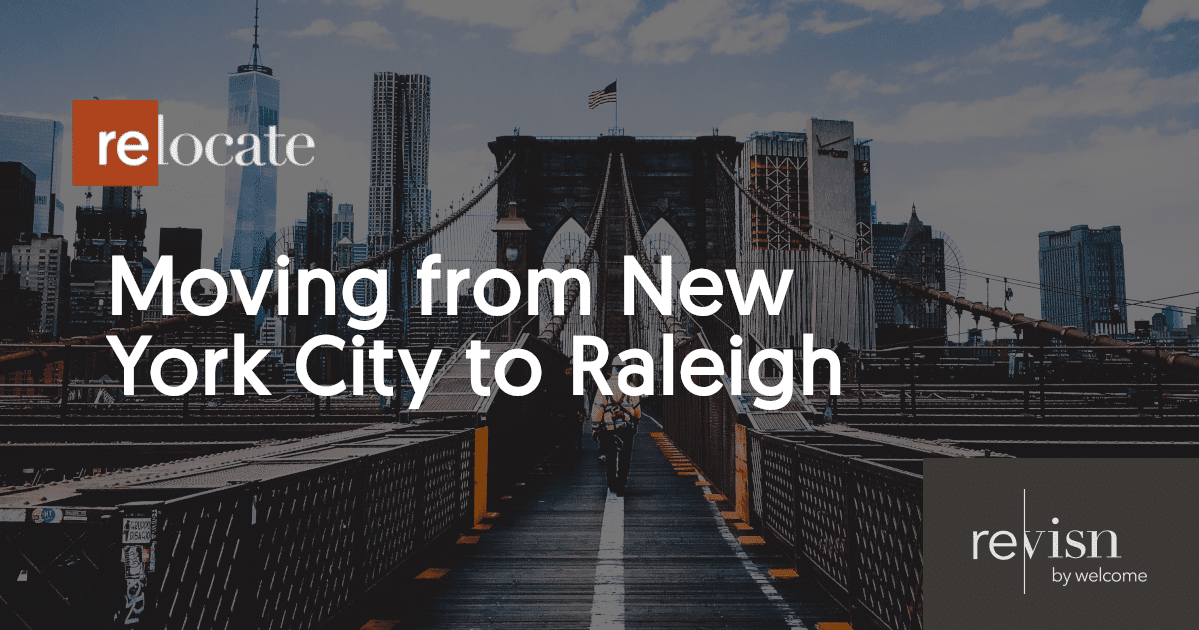 Relocating to Raleigh, North Carolina from New York City for a job prospect, work project, or to settle down with family? You've come to the right place. While the two cities may seem in stark contrast to one another, you will find that Raleigh offers big city value at smaller city pricing. Raleigh and the greater Research Triangle Park region of North Carolina is a major relocation hub in the Southeast, and growing. The job, business, and housing climates are steady and on the rise, making Raleigh the most desirable relocation locale for New Yorkers. With a lower cost of living, world class education, leading research and healthcare facilities and an international airport, Raleigh is the metropolitan dark horse.
Moving from New York City to Raleigh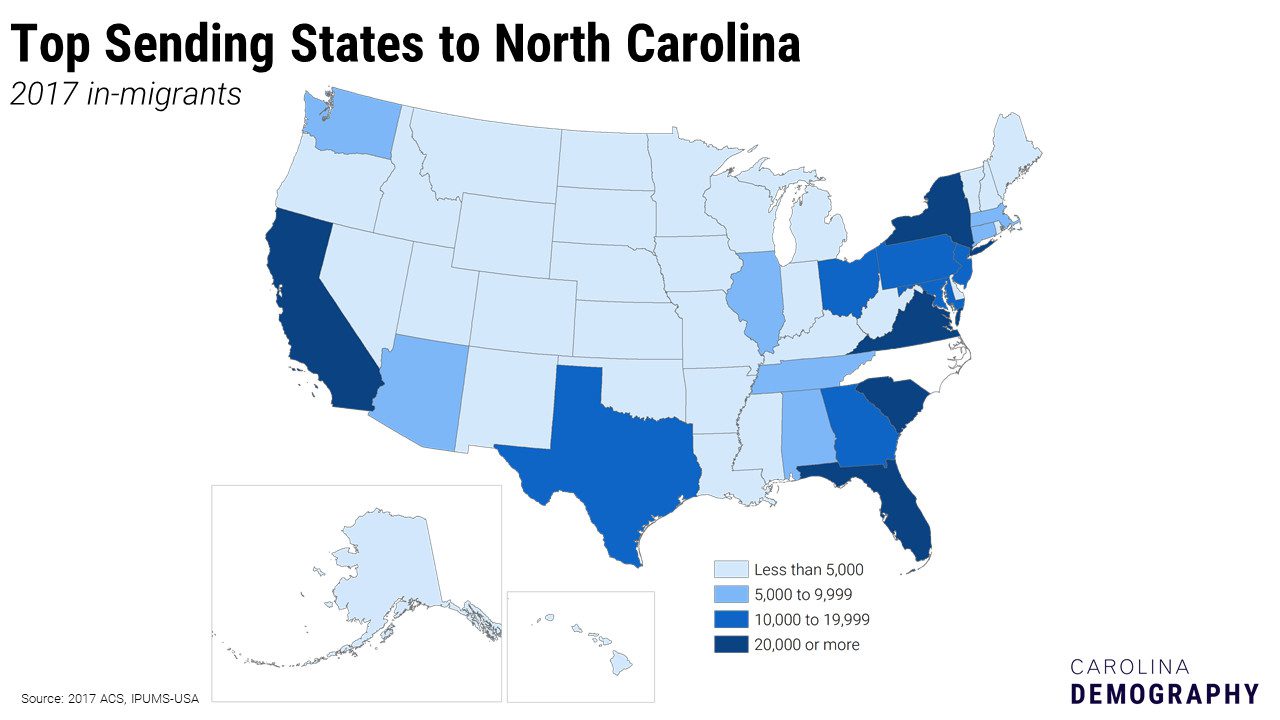 Raleigh is the full package - educated, employed, and affordable.
Work
With high job prospects in the software, pharmaceutical, information technology, and cleantech industries, Raleigh is known as the Silicon Valley of the Southeast. Large corporations such as Cisco, IBM, GlaxoSmithKline, and Red Hat call Raleigh home, and many international corporations have planted roots here as well. Raleigh also plays host to a bevy of engineering and agricultural corporations at North Carolina State University. The city is ideal for startups, too, due to the low cost of commercial property. Raleigh offers excellent job prospects for all!
Live
Luckily, the housing market is much more affordable compared to other major tech hubs. The city has been rated as the #1 place to rent and #3 to buy a home. Relocators can rest assured they will not have to compromise safety, location, and their own sense of style when moving here as the housing market is always booming.
The earmarks of great American cosmopolitanism are all visible in Raleigh: vast entertainment options, eclectic food choices, and multicultural community. Raleigh's southern hospitality is as warm as our climate, and our winters are far more temperate than that of northern cities. When you swap out some winter sweaters for new summer threads, you'll be pleased to find Raleigh is also home to many boutique clothing retailers and consignment stores! Our city is also just as demographically diverse as New York City, with large Black, Latino, and Asian communities. Revisn recommends paying a visit to the annual springtime International Festival located right here in Raleigh to get a glimpse at this strong community engagement. This multiculturalism also benefits our local cuisine, with many restaurants and specialty grocers located all throughout the city. Raleigh is truly the perfect smaller scale, yet constantly growing city in America. Come grow with us!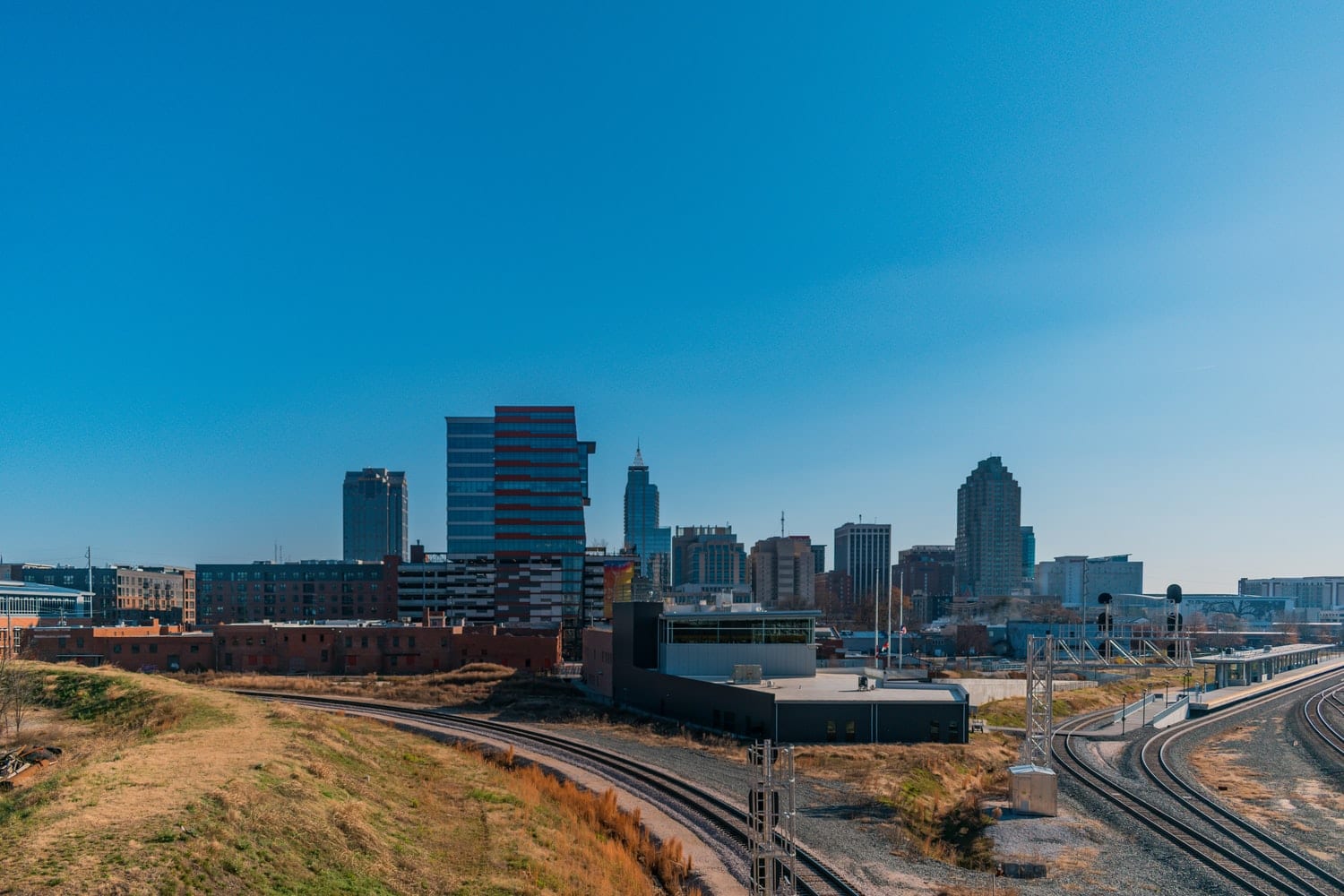 If you're searching for housing in the Raleigh area, Revisn has got you covered. Revisn provides short-term, fully furnished apartment housing. Revisn combines the spacious comfort and relaxing convenience of an executive apartment residence with the amenities of a luxury hotel. Stay for a minimum of 30 days or a few months while you explore the city and plan your next steps in life. Revisn is located in the fashionable Glenwood South entertainment district of downtown Raleigh with restaurants, bars, and so much more! The flexibility of Revisn lets you decide when your stay begins and ends without being locked into calendar months or long-term leases. Your residence comes fully furnished and fully equipped, including modern designer furniture, high-end appliances, and cutting-edge technology. For everything else, just ask our 24-hour concierge. All you need to bring is a toothbrush and your clothes. We provide the rest. Revisn redefines everything you think about an extended-stay hotel.
What makes Revisn unique?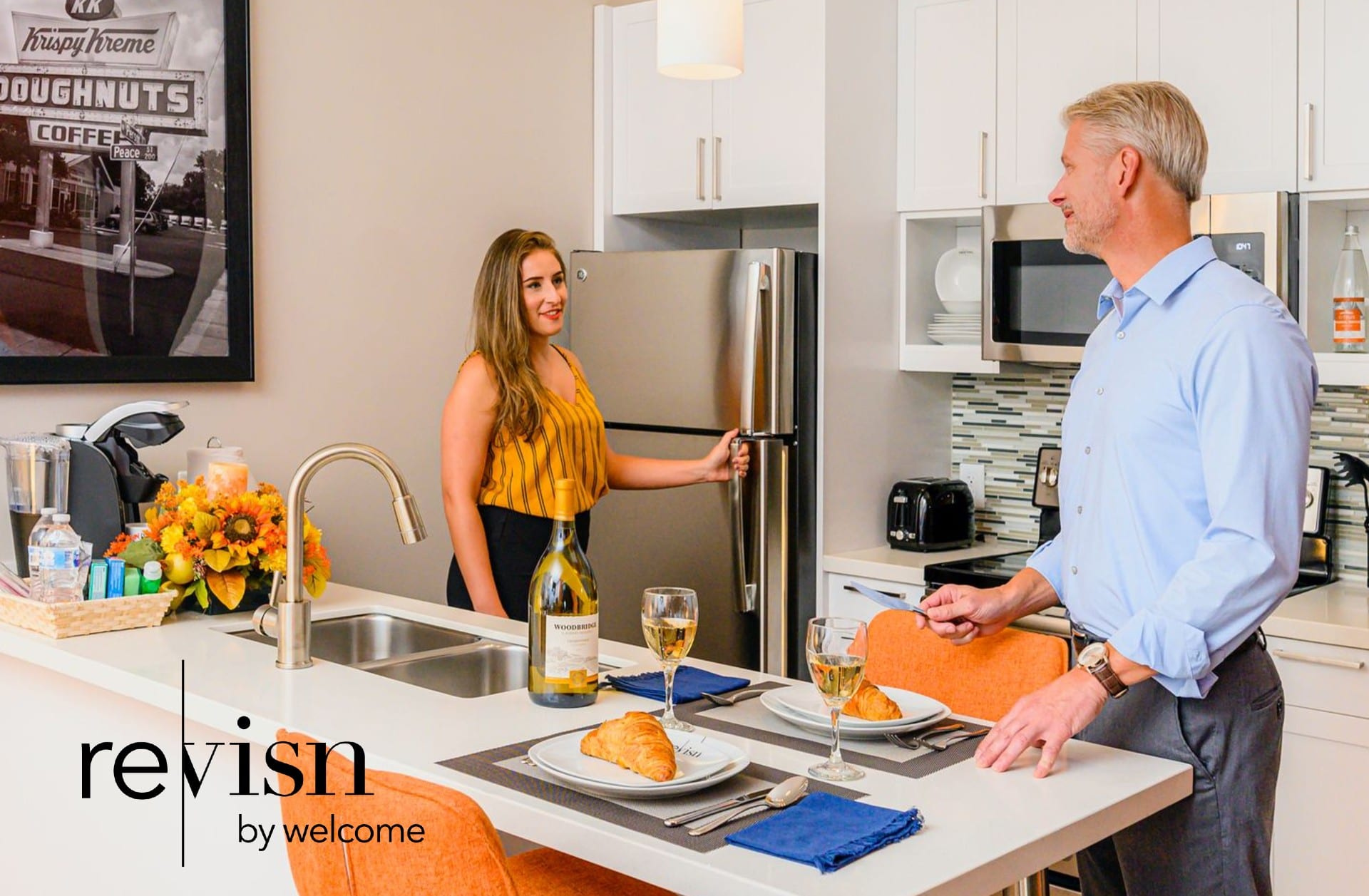 Revisn not only corners the market in affordable, fully furnished short-term housing in Raleigh, but we also care about the needs of our guests. Every aspect of the Revisn experience has been designed for the 21st century traveler: the family, the solo businessperson, and the curious tourist. If you are moving from New York City to Raleigh, we are your best short-term apartment option.
At Revisn, we love pets! Every guest is welcomed to bring any pet under 40 pounds for a small deposit fee and signed pet agreement. Settle in with your furry friend without relying on a friend or boarding facility.
Advanced technology is not an afterthought at Revisn. It permeates every aspect of your stay while becoming utterly transparent. Control your stay via the Revisn smartphone app. Your smartphone becomes your building and residence access key, your connection to Revisn's 24-hour concierge, your source for dining and shopping recommendations, and your source for controlling every aspect of your residence.
Passionate about saving the Earth? Us too! Revisn's rooftop terrace is fitted with solar systems of 134 modules angled to maximize the amount of sunlight they will receive on its posterior roof. These panels produce 20% of our building's power. This is equivalent of 1,086 tree seedlings planted, 92,397 pounds of carbon offset or 102,722 miles not driven. Check them out for yourself when you stay with us by enjoying some time up on the terrace.
Call Revisn today at 919-999-0160 and take that first step to becoming a North Carolinian.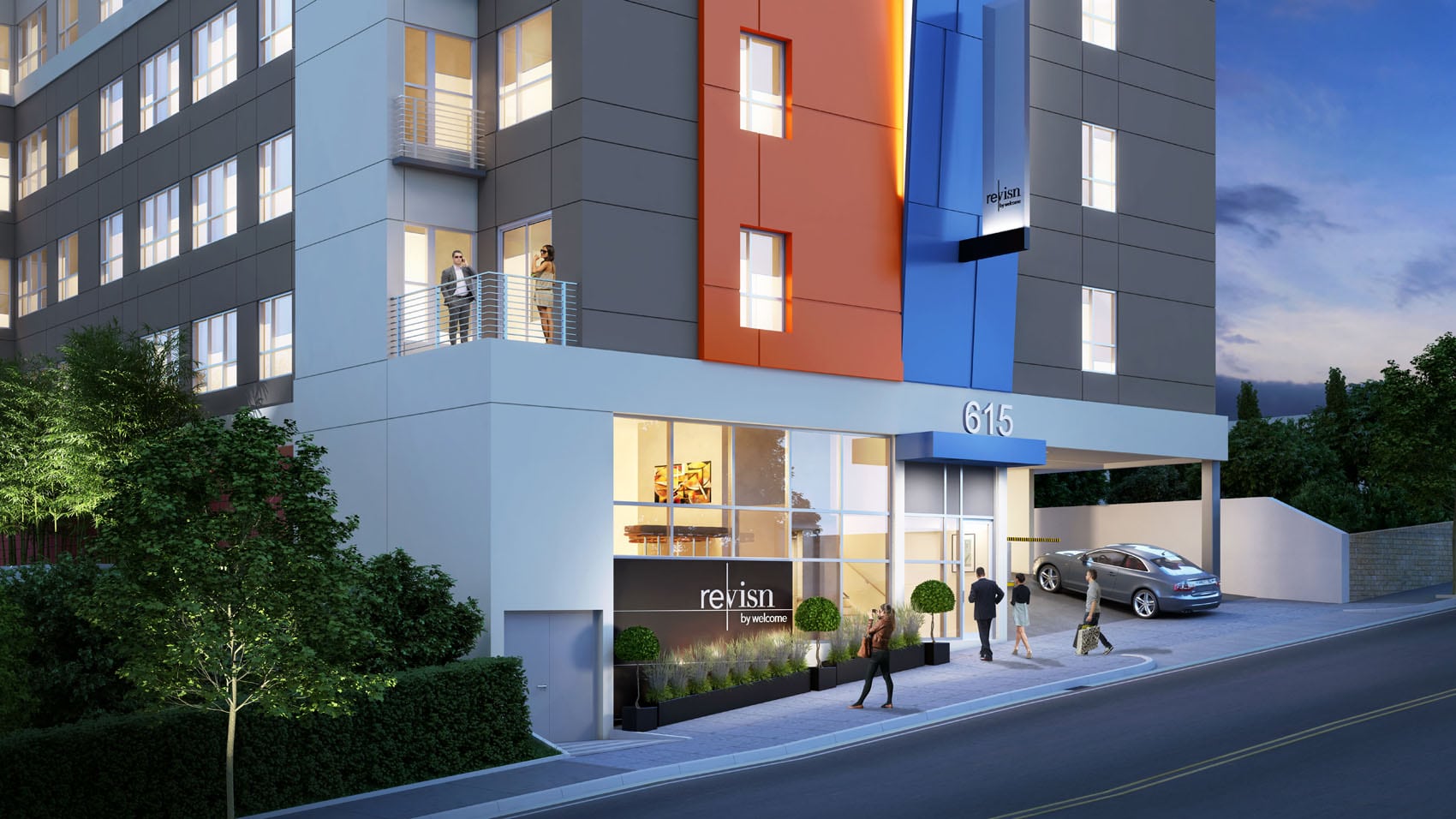 Fully-furnished, flexible lease residential experience with hotel amenities.Revisn is a perfect executive apartment for guests who need accommodations for 30 days or longer.