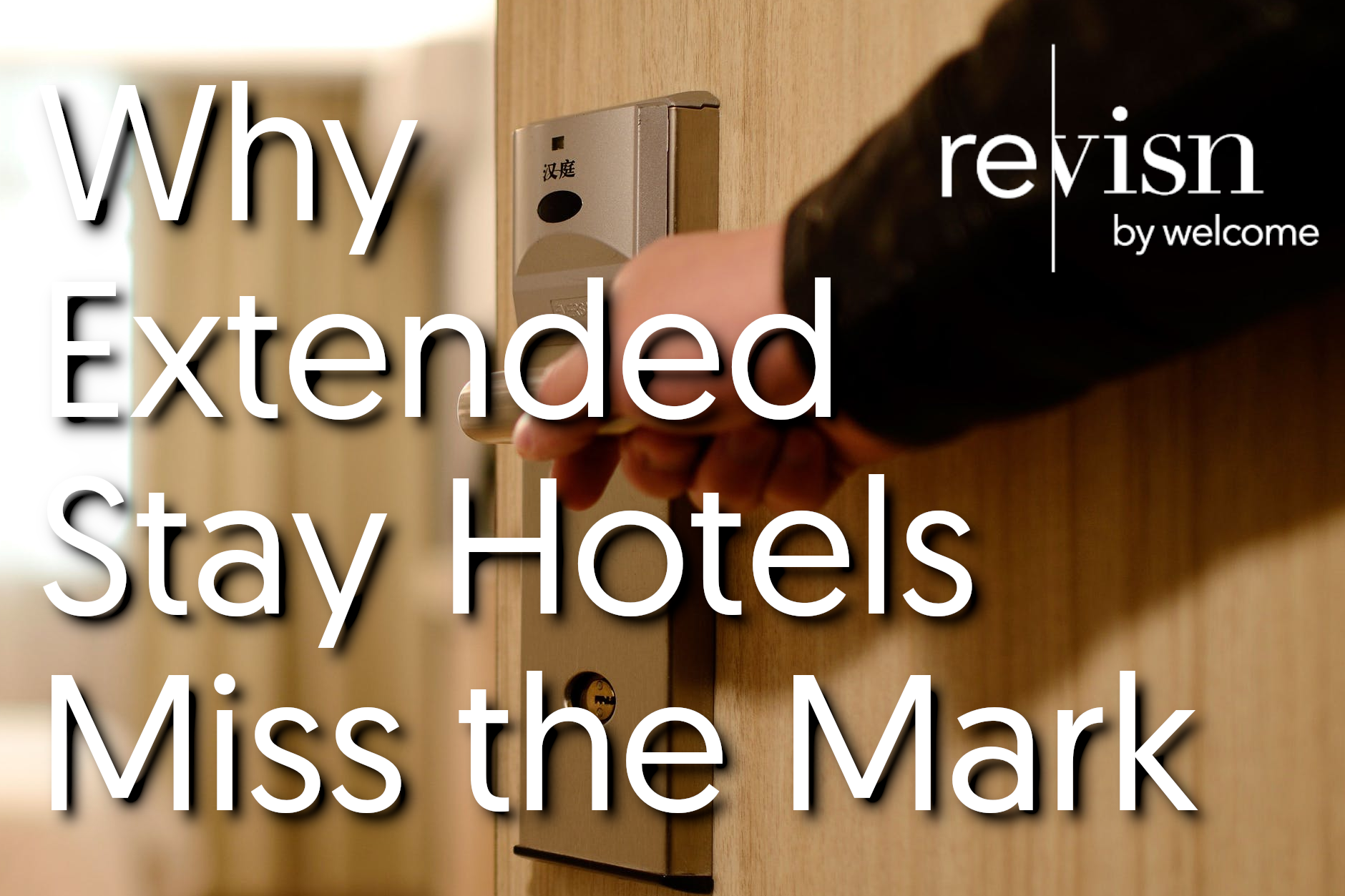 Imagine stepping off the plane into a new city. You are here on a project assignment or to relocate your family, and plan on staying in the area for a few months. At this stage, most travelers opt to check-in to an extended stay hotel where they believe their accommodation needs will be met for the interim.  What they find, however, is an overpriced hotel room with minimal furnishings, less than ideal amenities, and a huge bill at the end of their stay.
Travelers deserve the absolute best value out of their accommodations, especially today, when travel poses more inconveniences than ever. Good news! Guests in Raleigh can check into Revisn, Raleigh's premiere executive, fully furnished apartments. Revisn offers the perfect balance of comfort, convenience, and cost in Downtown Raleigh.
Comfort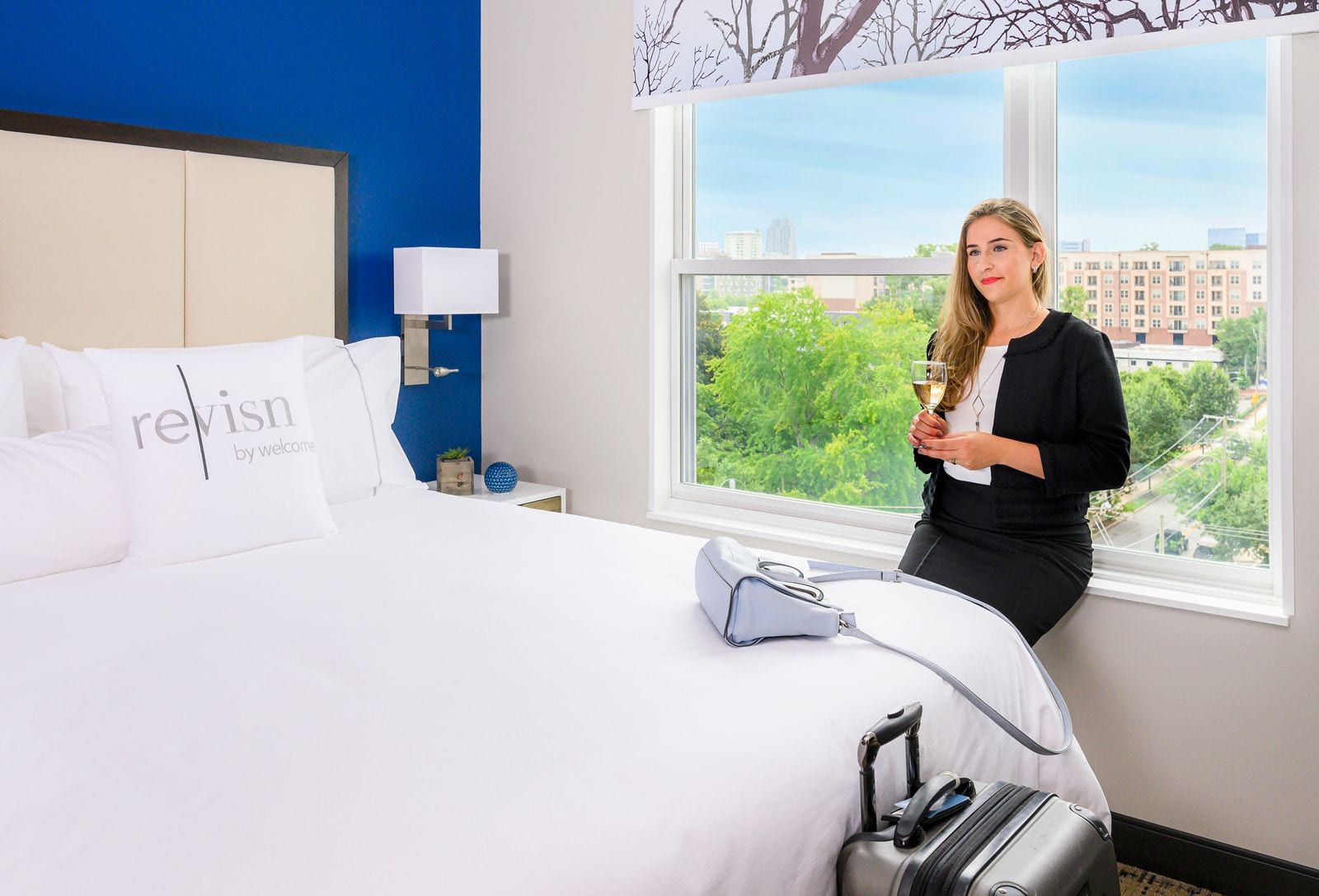 Extended stay hotels are not designed with form and function in mind. Resembling a typical hotel room or suite, these rooms are just that: small rooms. While few extended stays do include sectioned-off living areas, the sleeping quarters are cramped with little space to move around and fit your luggage. Revisn's fully furnished apartments are perfectly designed boasting an upwards of twice the size of your average extended stay hotel room. Plus, you can forget about staying put in one room for over a month. Revisn's short-term apartments feature separate bedrooms and dining/living areas to make you feel more at home. We are furnished apartments, after all, which means that our rooms are furnished like an apartment: modern for the 21st century traveler. Our executive apartments are bursting with our signature blue and orange colorway, stylish appointments, and stocked with all necessities. Cook healthy meals in our fully furnished kitchen with all flatware, crockery, and other utensils necessary for the perfect dinner. You would never find that much thought and care at an extended stay hotel that provides you with bare minimum furnishings, leaving you to fish around in storage for pots and pans.
Revisn is in the heart of Glenwood South, a neighborhood of Downtown Raleigh, North Carolina. Glenwood South boasts some of the finest shopping and dining experiences in the city, the perfect distance between RDU International Airport and the greater Downtown area. Extended stays hotels are typically stationed near airports and low-industrial areas that prove noisy with drab city views. Revisn's rooftop terrace faces either the quiet, residential Peace Street or the rich city skyline of Raleigh. You will not be catching sunsets at an extended stay hotel like you will at Revisn.
Revisn Raleigh feels like your home away from home, a perfect respite in our hectic world.
Technology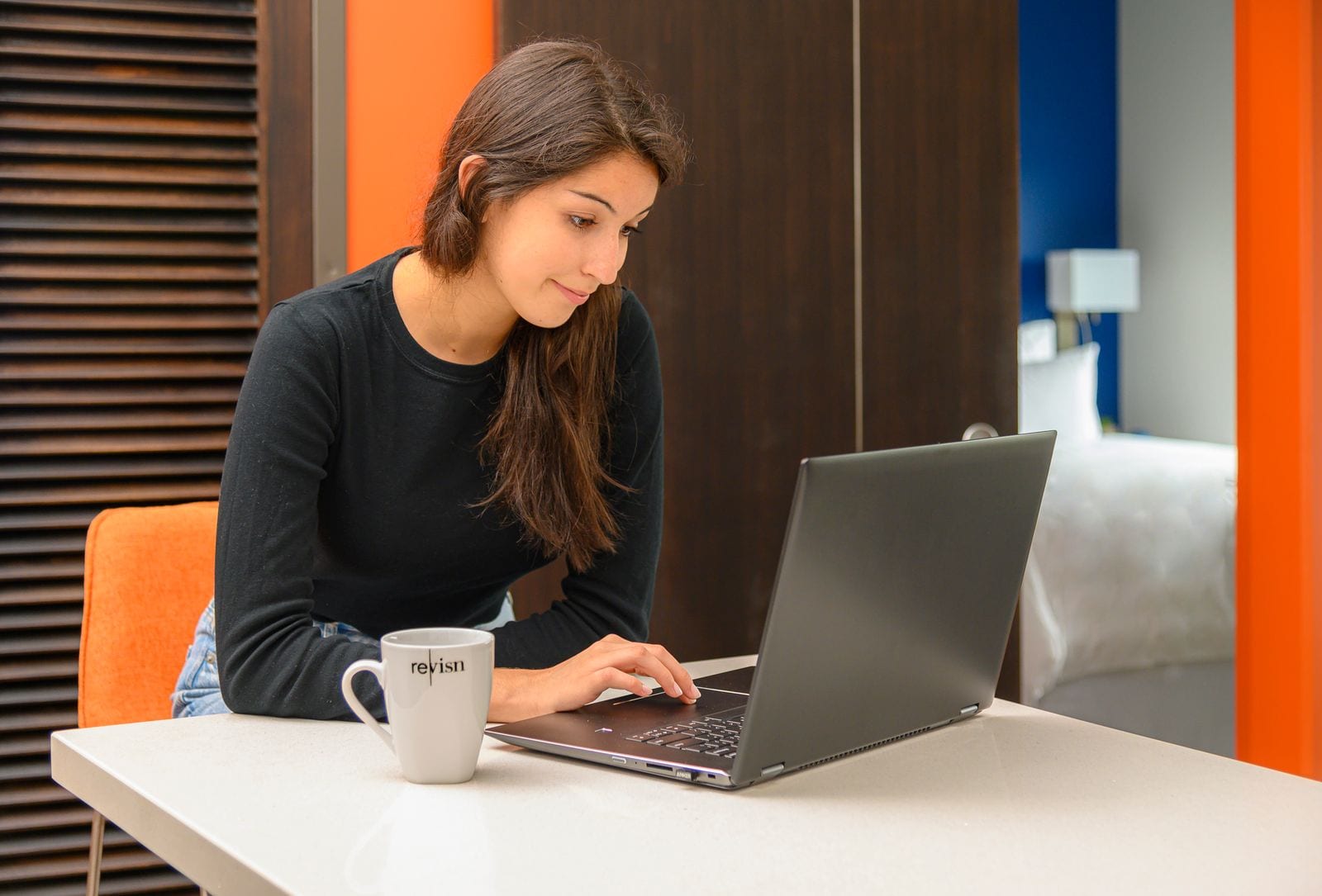 Revisn asks: if technology is advancing globally, why would it not permeate into the hospitality industry? The hospitality industry has been slower to catch onto smart tech. At Revisn, we focus on innovation and have implemented the latest in technology combined with smart eco-development.
Extended stay hotels resemble a typical hotel room or suite with student dormitory sized appliances, televisions, and Internet options that make for a below-average experience. Further, at an average extended stay, security is far laxer, with difficult-to-monitor parking and building access points. When long-term guests are searching for accommodations, they deserve a place to stay that is a step-up or like their own home. Revisn's corporate apartments provide state-of-the-art security features like our Butterfly MX two-way video intercom entry system and enterprise grade Wi-Fi with a secure in-room SSID network. At Revisn, there is no need to check in at the front desk with lengthy check in lines! The building and your residence entry arekeyless via the Revisn Residence Connect App.
Value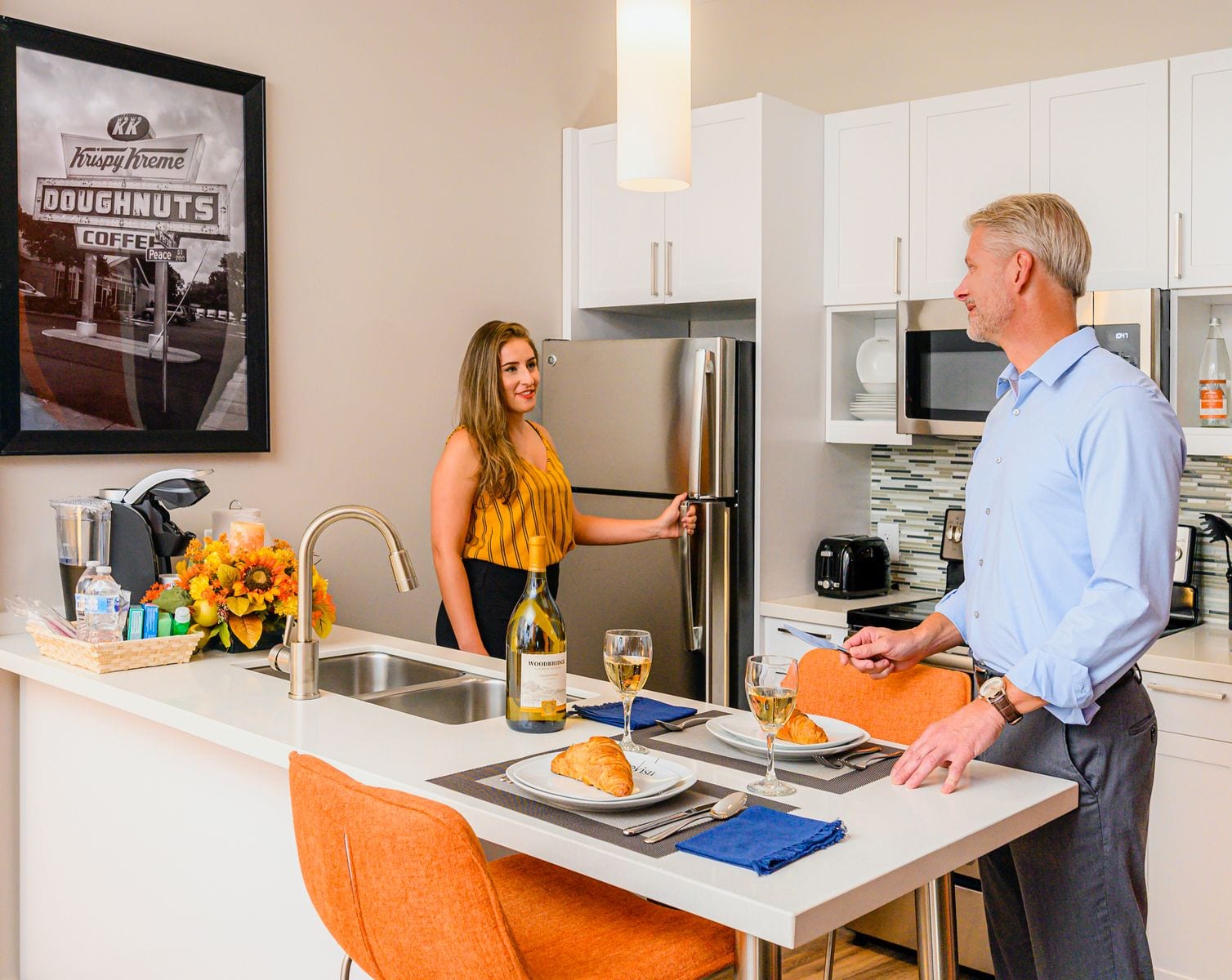 At Revisn, apartment living meets the appointments of a boutique hotel. Revisn's all-inclusive price covers premium furnishings, full size appliances, enterprise grade high speed Internet, utilities, weekly housekeeping and a 24-hour concierge service. Your Revisn residence comes includes Samsung HD televisions, an LG two-in-one washer and dryer, linens, and toiletries.
The average rate for U.S. corporate housing in 2017 was $161 a day. Revisn beats that daily price by a mile and more, and offers flex leases. After a minimum 30-day stay, you can extend your reservation a day, weeks, or months. At Revisn we believe that one should never pay more for accommodation than necessary!
You never sacrifice location, amenities, comfort, convenience, or style at Revisn. Our value stacked next to an extended stay or other corporate apartment is incomparable.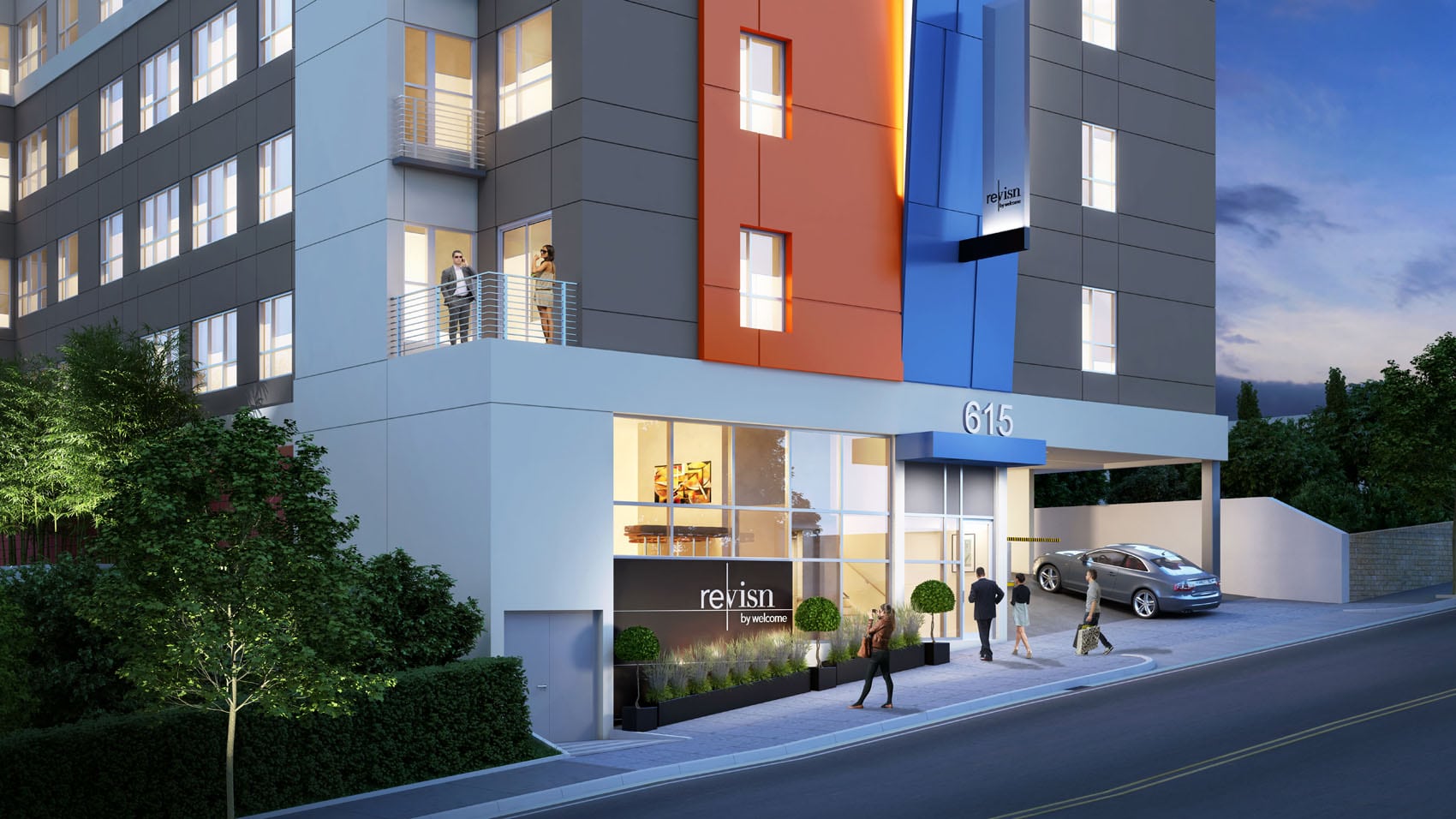 Fully-furnished, flexible lease residential experience with hotel amenities.Revisn is a perfect executive apartment for guests who need accommodations for 30 days or longer.