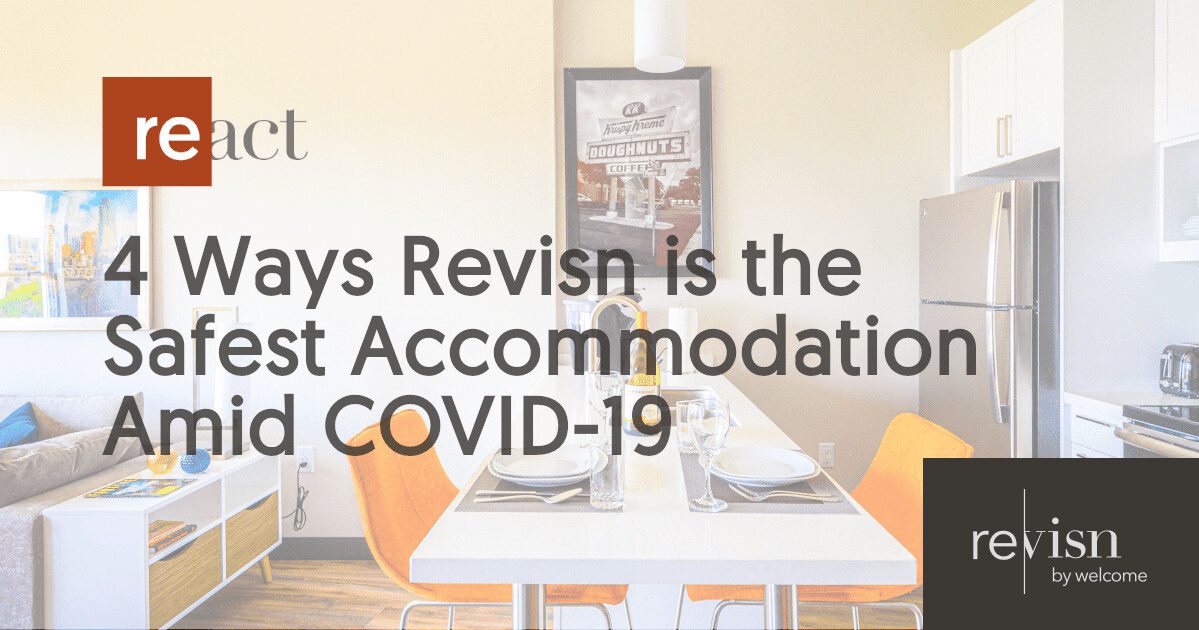 Revisn is Raleigh's premiere fully furnished, short-term apartment brand because of our luxury design, high-tech infrastructure, and our commitment to white-glove service. That service includes ensuring peace of mind for all our guests while we all navigate these tough times together. Since March 2020, Revisn has remained vigilant and dedicated to constantly updating our sanitation and safety policies so that we may care for our guests as best as possible. Read on to find out why we are the safest long-term accommodation option in Raleigh.
Mask Policy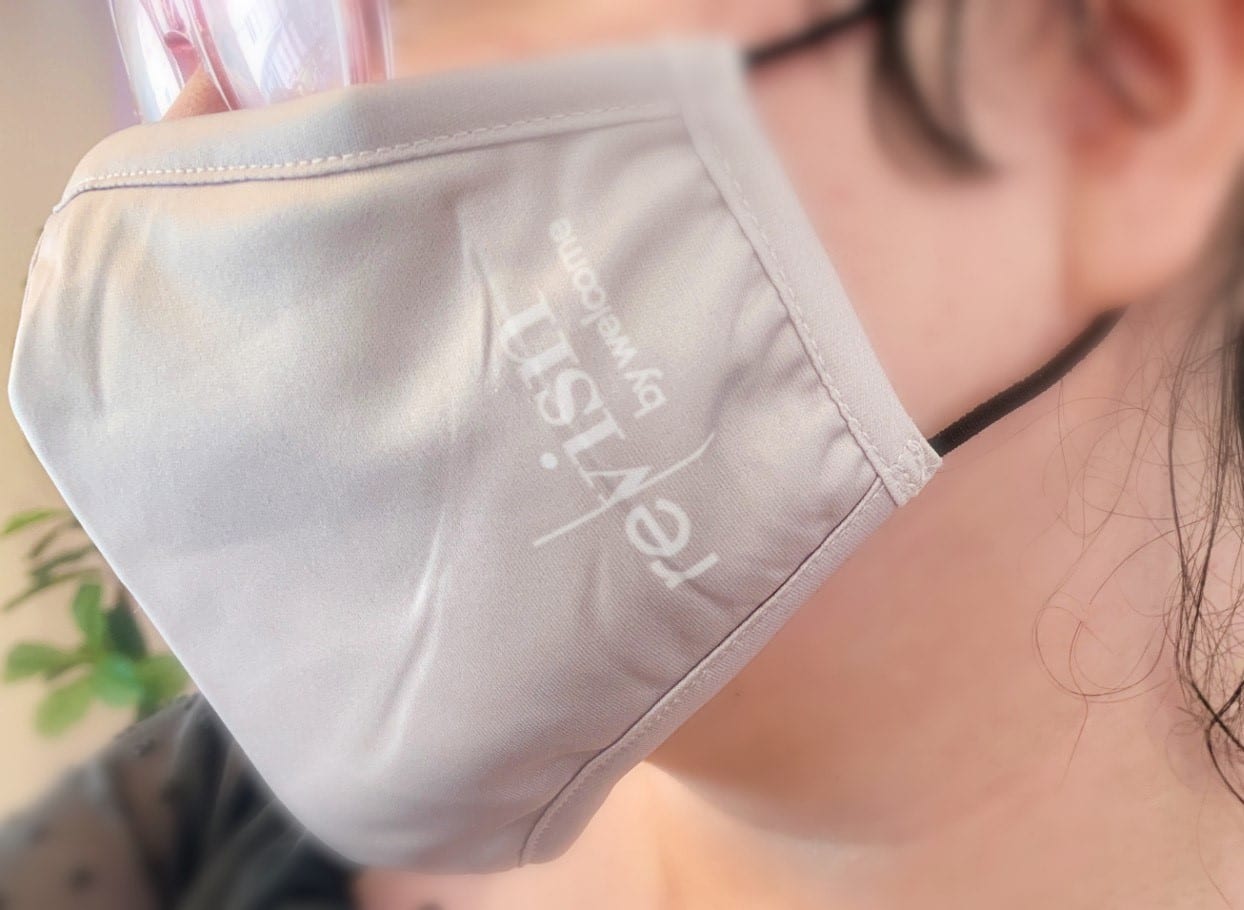 The CDC informs that wearing a mask is one of the current best methods to slow the spread of COVID-19.  Revisn requires all guests booking a short-term apartment with us to wear a cloth face covering while navigating the building's corridors and common spaces. To make this policy easier to follow, Revisn provides each guest up to two Revisn brand cloth masks for the duration of their stay, free of charge. Additional masks can be purchased in our leasing office. We also strongly encourage a "one-in, one-out" policy for families embarking on our elevator. Please kindly wait until the next available elevator is empty so you may safely navigate throughout the building.
Our staff remains further committed to the safety of our guests by maintaining social distancing between all occupants and staff, wearing masks to prevent further spread of unwanted germs, daily temperature checks, and frequent hand washing requirements.
Surface and Short-Term Apartment Sanitation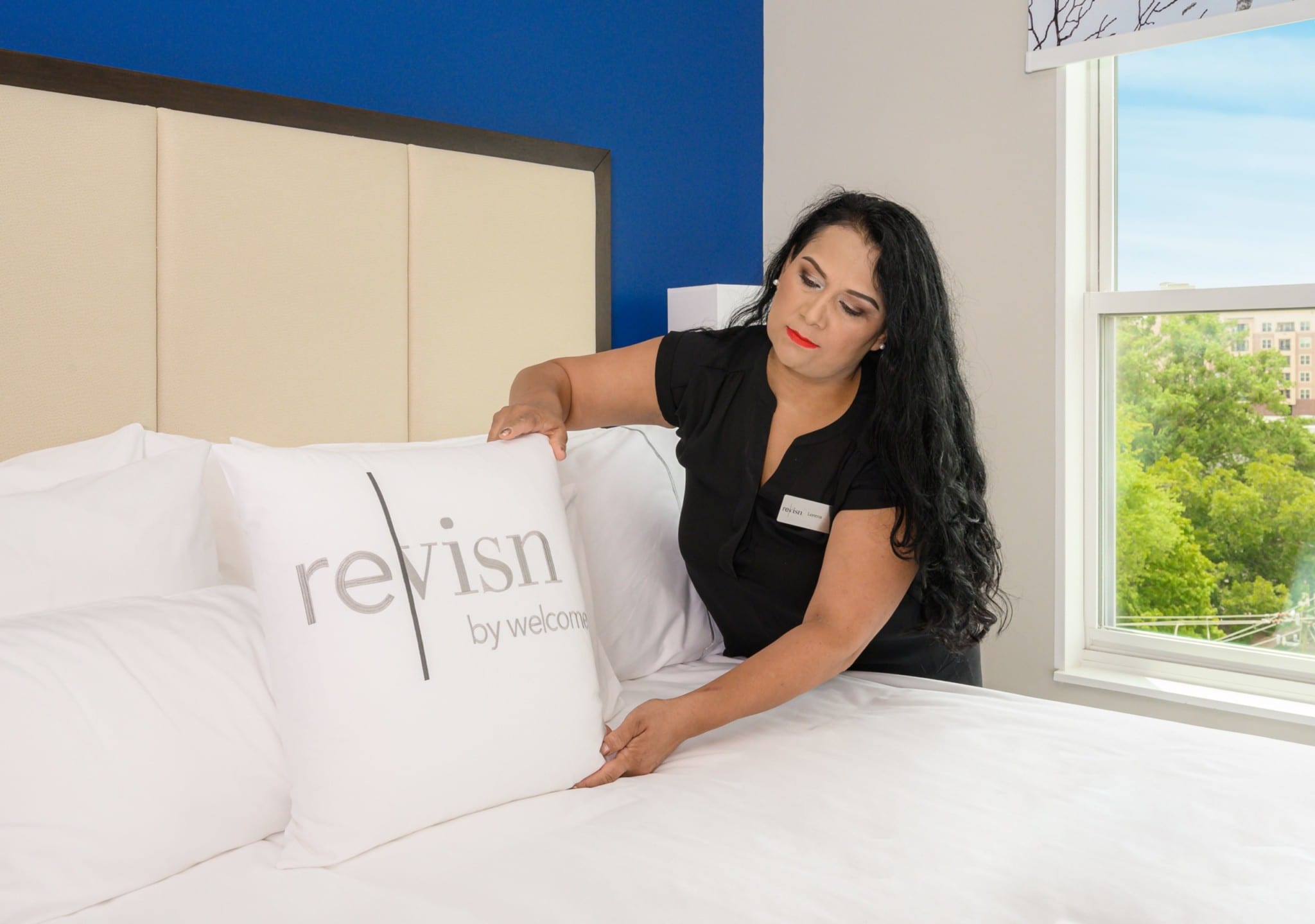 Revisn is dedicated to maintaining operations during this time with strict new cleanliness guidelines followed by our staff, including a deep clean of common areas in the building and frequently wiping down door handles and elevator buttons. Our hardworking housekeepers take care to sanitize all surfaces in each residence before check-in and upon check-out.
VRF Air Sanitation Guarantee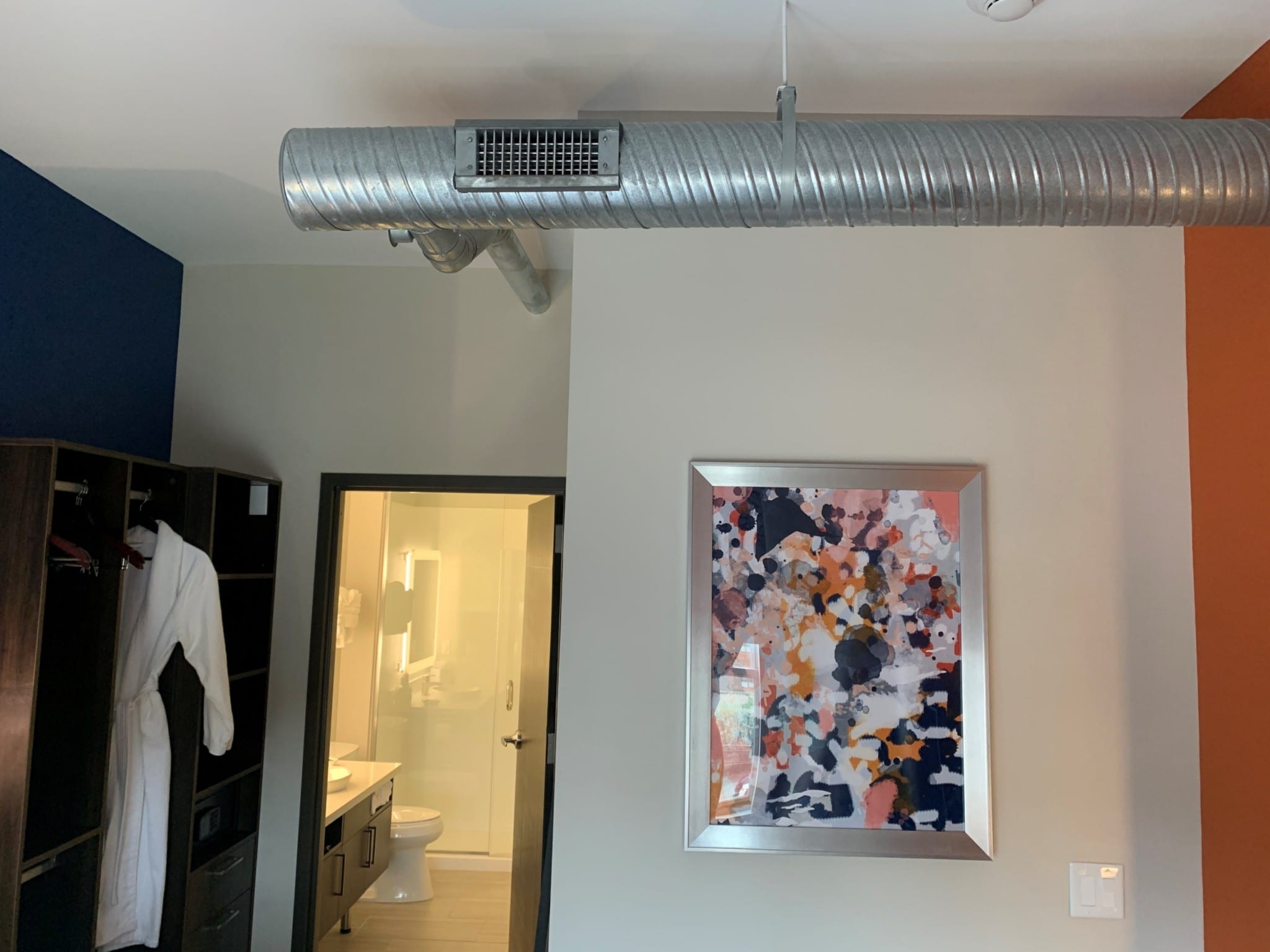 Revisn utilizes a Variable Refrigerant Flow (VRF) system which is a single refrigerant circuit that connects indoor units to one outdoor unit. Your short-term apartment unit has its own compressor unit and our maintenance team routinely changes filters as required by the manufacturer so that we may provide our guests a quiet, clean, and safe experience. In plain language, duct work is not shared between units, so the air you are breathing in your own Revisn residence is clean, guaranteed.
Why Revisn?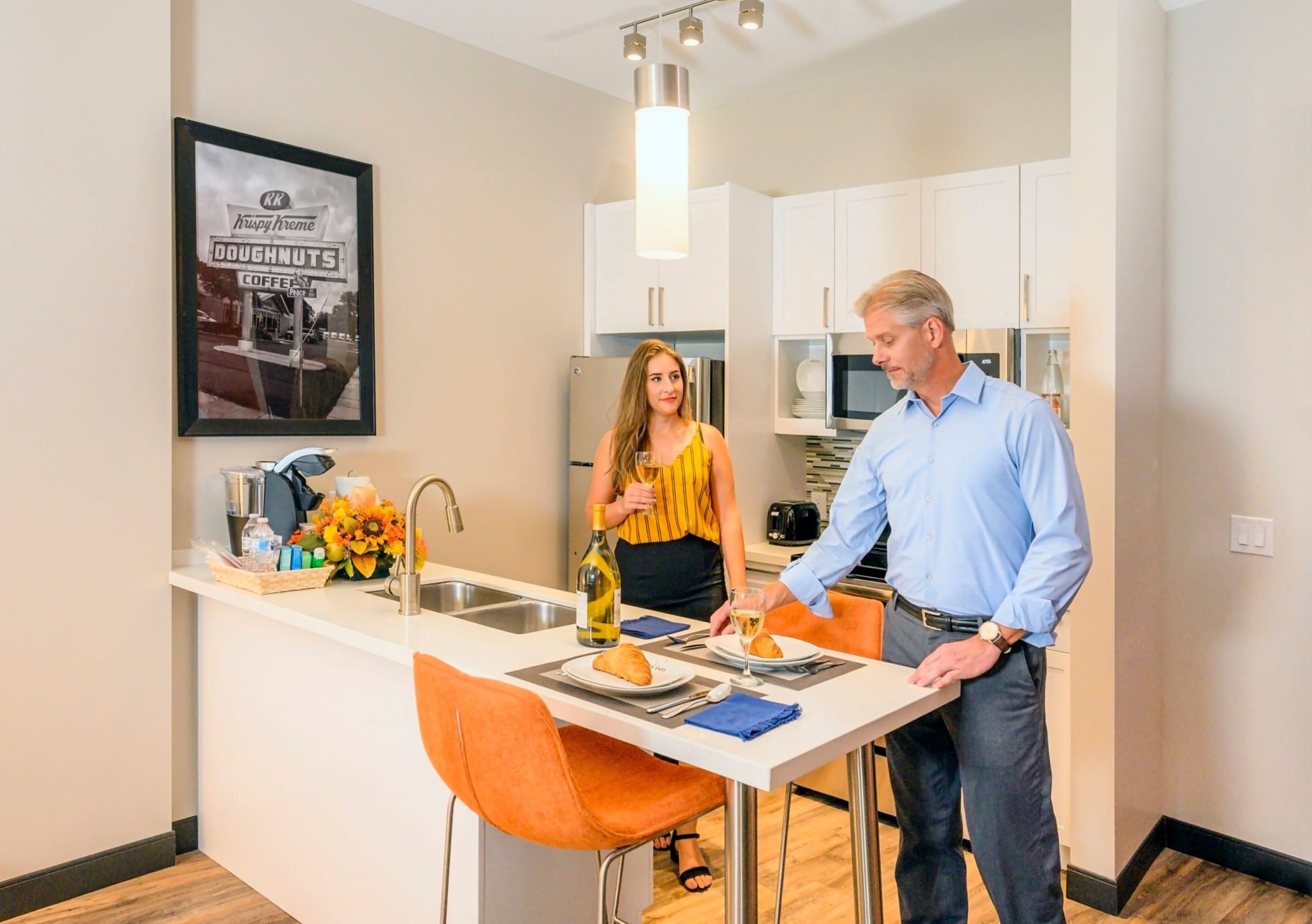 Pick any other chain hotel or extended stay brand and find that cleaning and social distancing is not as stringent as that of Revisn. With long hallways filled with to-close-for-comfort room layouts and hundreds of guests checked-in at a time, it can be impossible to enforce safety guidelines among all guests at all times.  At Revisn, our small staff is dedicated to ensuring our guests' safety from check-in to check-out. Our mask policy is enforceable, our sanitation routines are rigorous. We remain open and transparent of these policies for your safety. Many rooms are set aside to remain vacant for up to two weeks for our guests that require an extra step of caution, so no matter when you book Revisn, we guarantee you peace of mind and body. This is our promise to our guests, past and future, and our beautiful city of Raleigh.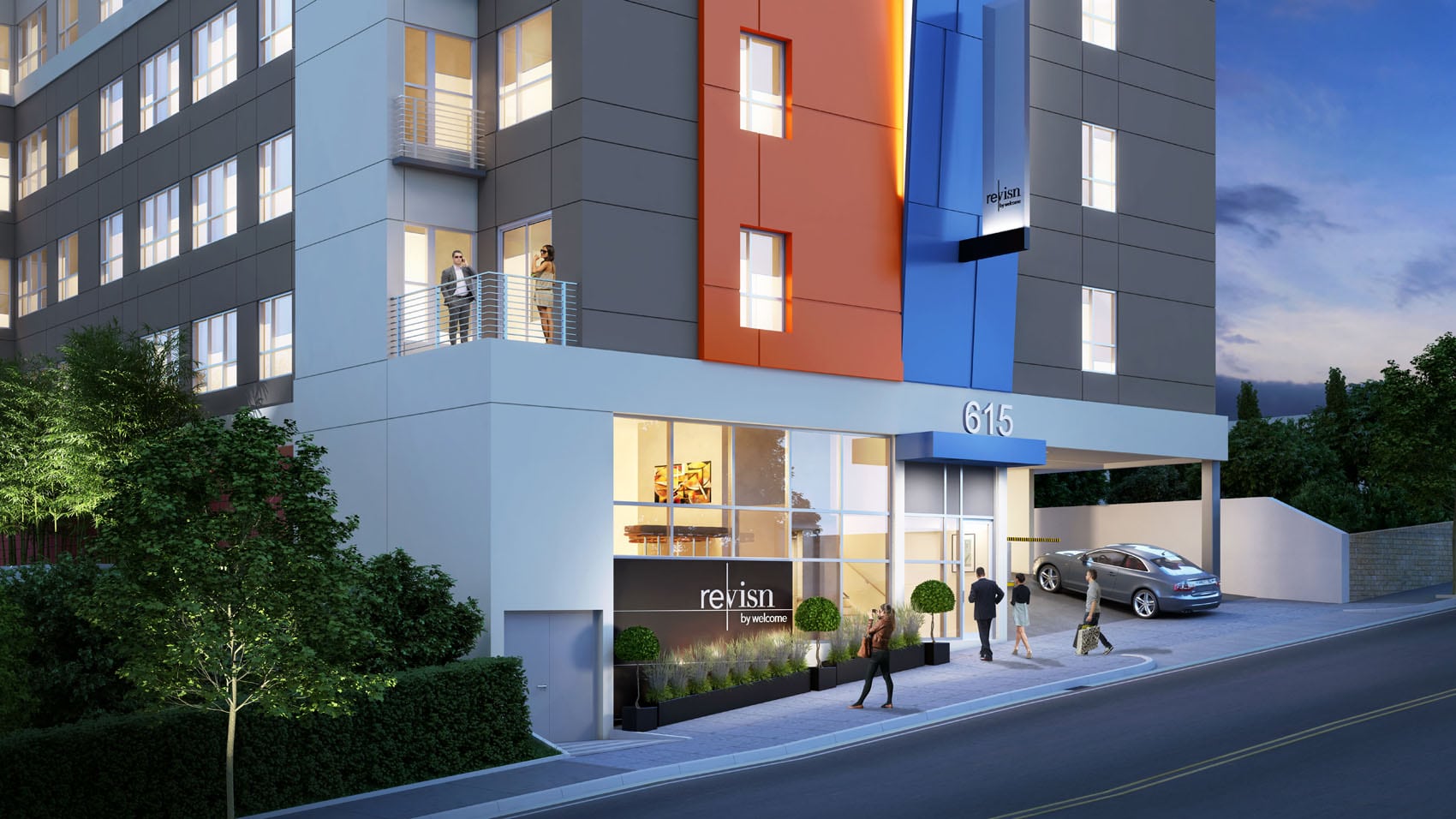 Fully-furnished, flexible lease residential experience with hotel amenities.Revisn is a perfect executive apartment for guests who need accommodations for 30 days or longer.