You're here because of a critical question in your apartment shopping process: should I rent a furnished or unfurnished apartment? Each style of living has its own benefits and is suitable for different circumstances. Those on the move more often than others (think: travel nurses, work-from-home nomads, relocators, families displaced due to home damage) typically opt for a fully-furnished apartment. These apartments come fully stocked with all necessary pieces of furnishing, décor, and other appointments for living a comfortable life. Unfurnished apartments, however, are typically more suitable for those unprepared to buy a home in their locale of choice, or just prefer the option of maintaining their own living space. Revisn reviews the benefits of each type of residence to aid our readers decide if a furnished or unfurnished apartment is right for them.
Benefits of Furnished Apartments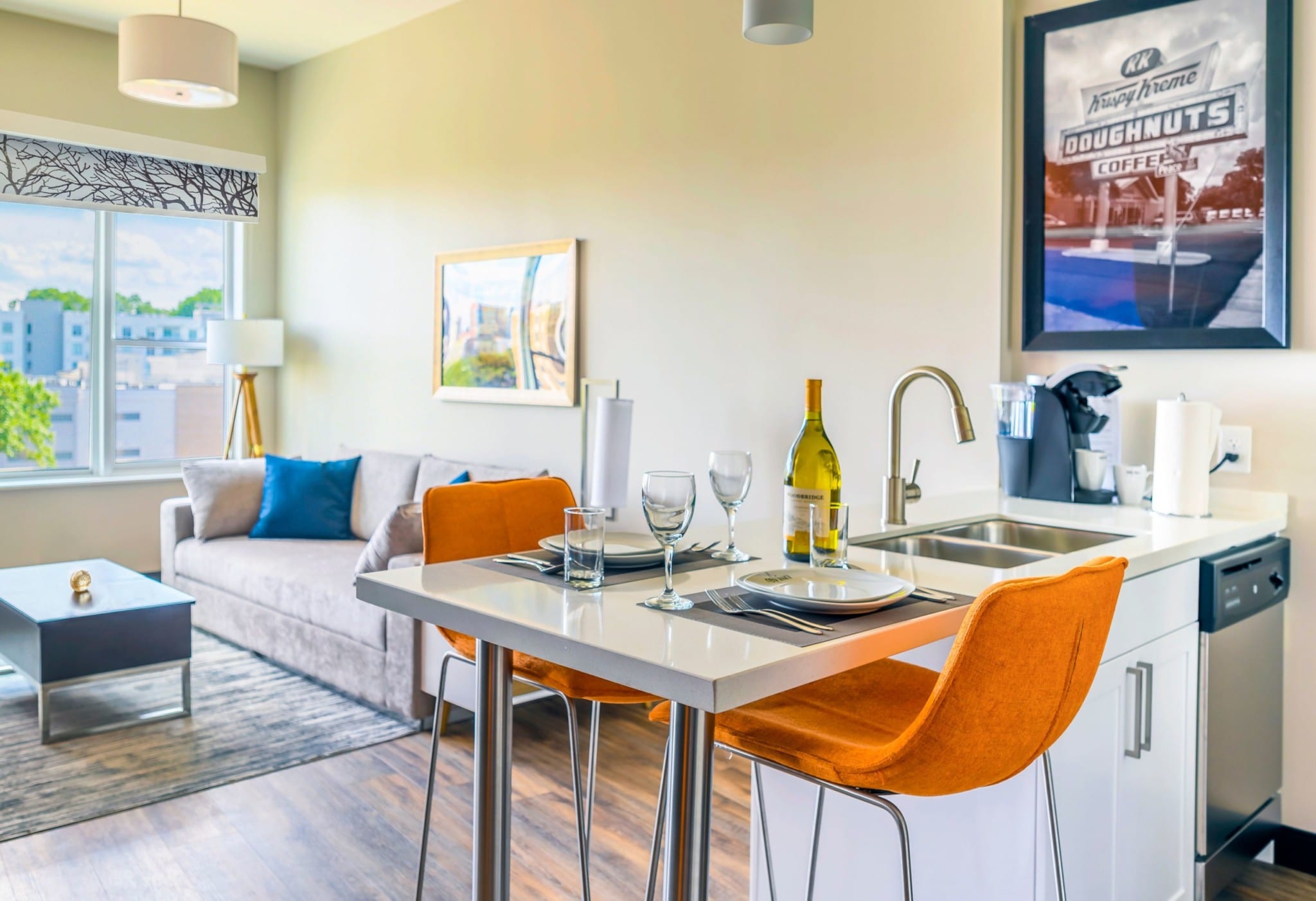 Furnished apartments are move-in ready
The largest benefit of opting to rent a fully furnished apartment is the ease of moving into one. Furnished to fully furnished apartments include all furniture, kitchenware and accessories, and décor necessary for a suitable and stylish living space. Every corporate apartment at Revisn is fully furnished including a fully stocked kitchen; just bring your toothbrush to settle in!
... and move-out ready.
Say goodbye to the dreaded move-out day with a fully furnished apartment. No heavy lifting is required when you transition out of your furnished apartment, which is perfect for the more nomadic renter. Residents at Revisn who are on location for a job, in the home buying/selling process, or rehousing due to damage to their home enjoy this feature of our apartments.
No upfront costs aside from rent
Moving into an unfurnished apartment requires, well, furnishing it! When renters opt for a furnished apartment, no up-front costs to decorate are necessary. These basic apartments also require utility and Internet start-up fees. Luckily, the apartments at Revisn are not only fully furnished, but our residents only pay one flat fee every month with no extra utility, Internet, or housekeeping fees! Under one all-inclusive price, our fully furnished apartments are the best value in Raleigh, North Carolina.
Lease lengths on furnished apartments can vary
Typically, furnished apartments do not fall into a typical 12 to 18 month lease. Many fully furnished complexes cater to stays on a monthly or semi monthly basis due to their price points. Revisn Raleigh accommodates 30+ night stays in our one and two bedroom apartments with "flex leases." Stay only the amount of days you need and extend your stay as necessary, whether by one, two, or ten nights!
Benefits of Unfurnished Apartments
Design your own space
With an unfurnished apartment, renters are given the freedom to choose how they decorate to create a place for themselves. While that is a terrific benefit for the design-inclined, we find that short-term renters especially prefer furnished residences to save on these start-up costs in their new space.
Wear and tear won't be a worry
Got pets? A little messier than most? No problem if you choose to rent unfurnished. When your apartment and everything in it is your own, you are less liable for wear and tear in the facility including your own possessions. Renters are all still beholden to the terms in their lease for damages, just like a furnished apartment.
Invest in your possessions
Renters get the opportunity to pick out timeless, sturdy, and life-long pieces to fill their apartment when they rent unfurnished, allowing them to take their pieces wherever they move. Those requiring short-term stays or who move locales often prefer the opposite, opting for modular furniture or renting furnished. Revisn's apartments are fully-furnished top to bottom, and move-in and move-out does not require any heavy lifting.
Monthly rent can be less
Unfurnished apartments cost less to rent each month than a furnished apartment. Still, utilities, Internet, and other recurring costs add up, and forking over hundreds or even thousands to furnish your new pad can become costly. Revisn's apartments are the best value in Raleigh for short-term, fully-furnished needs. Weekly housekeeping, all utilities, enterprise-grade Wi-Fi, a YouTube TV subscription, and much more are all including in your monthly fee.
Why Revisn?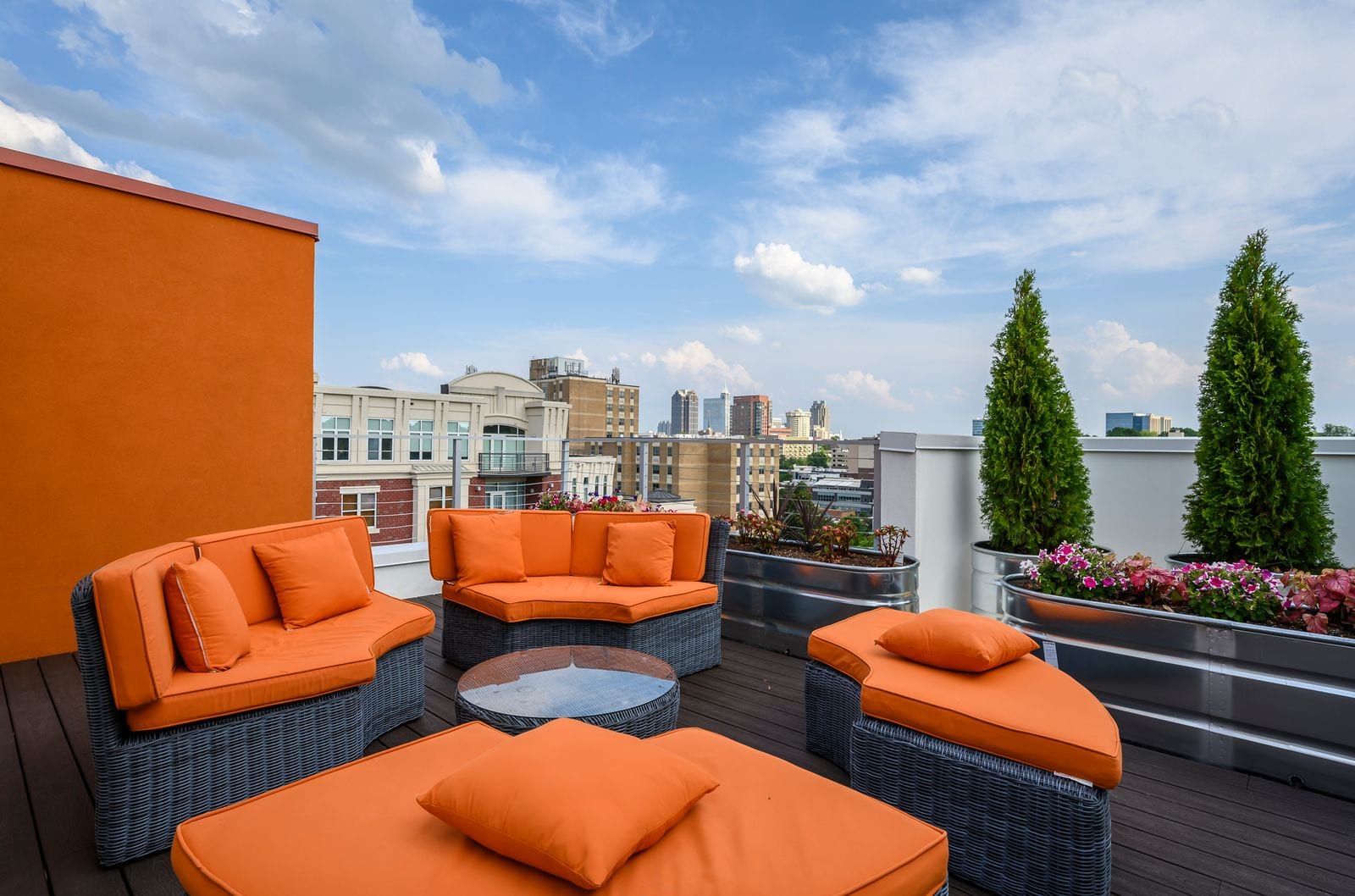 If you are preparing to move to Raleigh, North Carolina, choose Revisn short-term, fully furnished apartments as your transitional housing.
Revisn not only corners the market in affordable, fully furnished short-term housing in Raleigh, but we also care about the needs of our guests. Every aspect of the Revisn experience has been designed for the 21st century traveler: the family, the solo businessperson, and the curious tourist.
At Revisn, we love pets! Every guest is welcomed to bring any pet under 40 pounds for a small deposit fee and signed pet agreement. Settle in with your furry friend without relying on a friend or boarding facility.
Advanced technology is not an afterthought at Revisn. It permeates every aspect of your stay while becoming utterly transparent. Control your stay via the Revisn smartphone app. Your smartphone becomes your building and residence access key, your connection to Revisn's 24-hour concierge, your source for dining and shopping recommendations, and your source for controlling every aspect of your residence.
Passionate about saving the Earth? Us too! Revisn's rooftop terrace is fitted with solar systems of 134 modules angled to maximize the amount of sunlight they will receive on its posterior roof. These panels produce 20% of our building's power. This is equivalent of 1,086 tree seedlings planted, 92,397 pounds of carbon offset or 102,722 miles not driven. Check them out for yourself when you stay with us by enjoying some time up on the terrace.
Call Revisn today at 919-999-0160 and take that first step to becoming a North Carolinian.
Fully-furnished, flexible lease residential experience with hotel amenities.Revisn is a perfect executive apartment for guests who need accommodations for 30 days or longer.