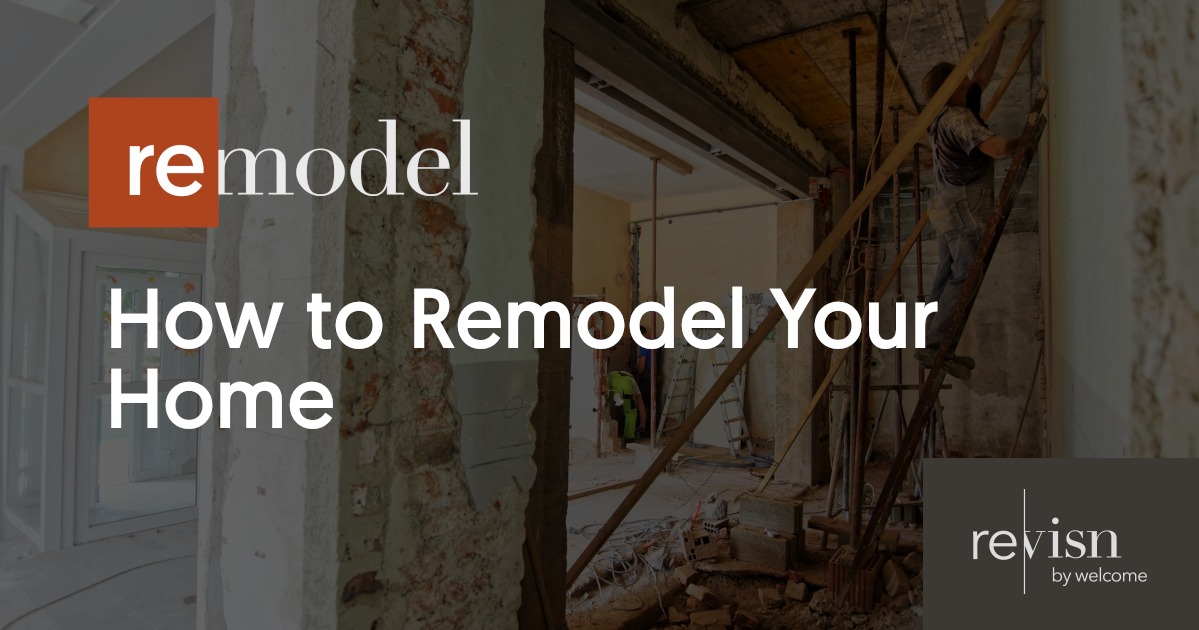 If you have been wondering how to remodel your home to fit the latest design craze, increase your property value, or sell your home, look no further than Revisn's new handy guide on home remodeling in 2022. Home remodels are not one-size-fits-all, nor is there any one correct way to approach your home remodeling plan. Given the proper tools and information, homeowners can stay informed of their options when undertaking their own remodeling project, from a simple bathroom remodel to a full-scale kitchen overhaul. Let's take you through the basics first.
Planning Your Home Remodel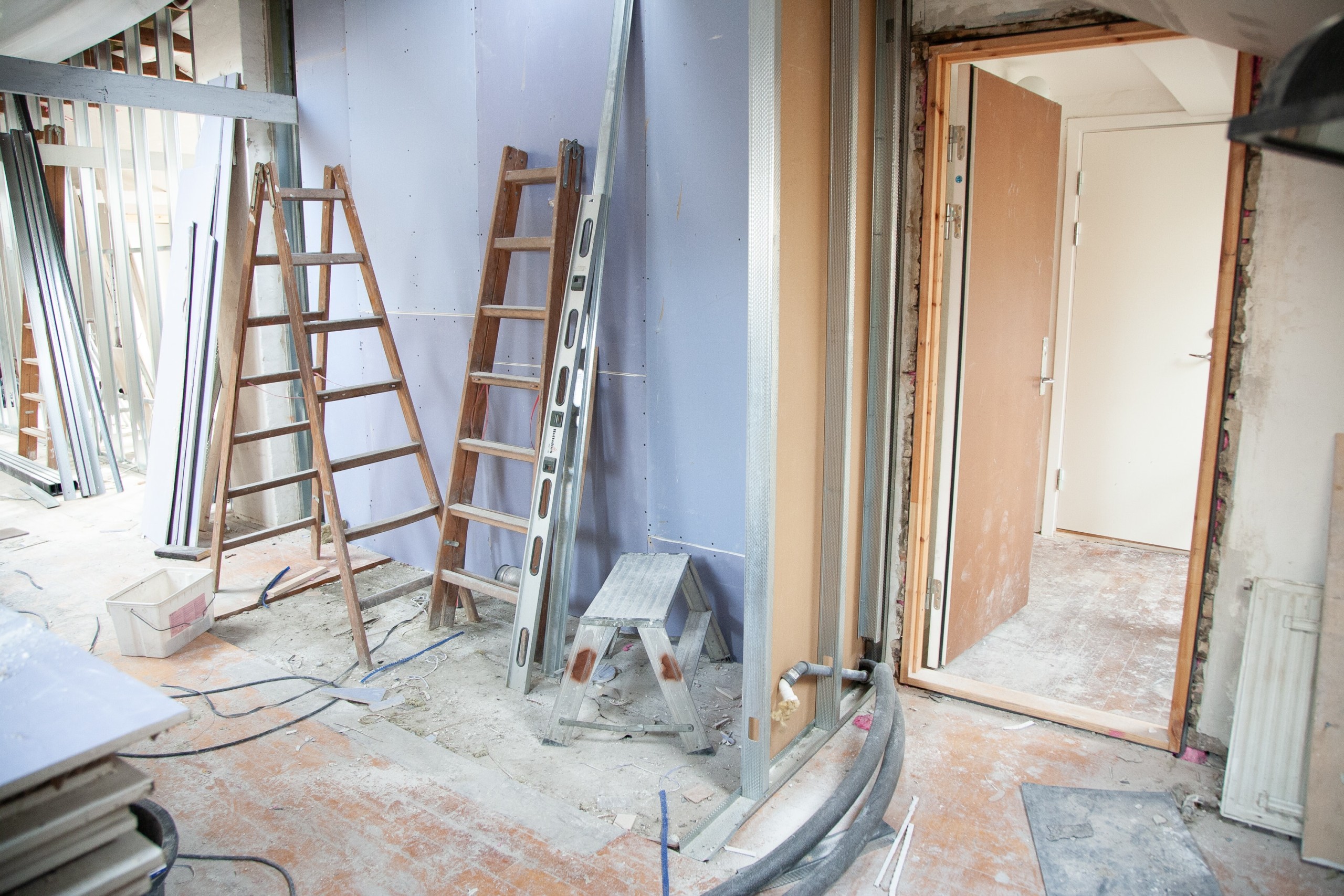 Remodeling your home is no small project, and isn't something you should look forward to completing in one day, or even one week. Manage your expectations before you decide that a home remodel is right for you, your household, and your budget. Once you have committed to this exciting project, first, decide which areas in your home need addressing. If the bathroom is outdated, plan for new tiling and fixtures. Want to love, and not just like your kitchen? Rethink the floorplan and update your appliances! Multiple-room projects are certainly more work to take on, but have longer lasting impacts on your home appraisal and market value. Next, research the current trends in home and interior design. Are you looking for a more rustic, timeless look for your home, or will you decide on a refreshing stark-white, minimalist redesign? Whatever your decision, get to mood-boarding! Save as many reference images and handy blogs that you find helpful to your individual goals. Read interviews with renowned designers and architects. Consult your family and friends on what they would enjoy seeing done to your home.
When you've got your basic concept and design down, the next step to take is to research professionals in your area who can help you get the job done. You don't want to be DIYing such a huge undertaking, and Revisn will rarely recommend such a route. Hire a professional design-build contractor that will help you take a look at all of your options, leaving no stone unturned. A good home remodeling contractor will listen to your wants and needs, understand your budget, and come up with an exceptional plan that balances your time and your money. Design-build contractors can fully map out a custom remodeling plan for you if it's just one room or a much larger full-home overhaul. Plus, they can research if you'd run into any licensing or permit issues if you are planning on building an extension to your property, making sure everything is strictly up to code for your city and state.
Types of Home Remodels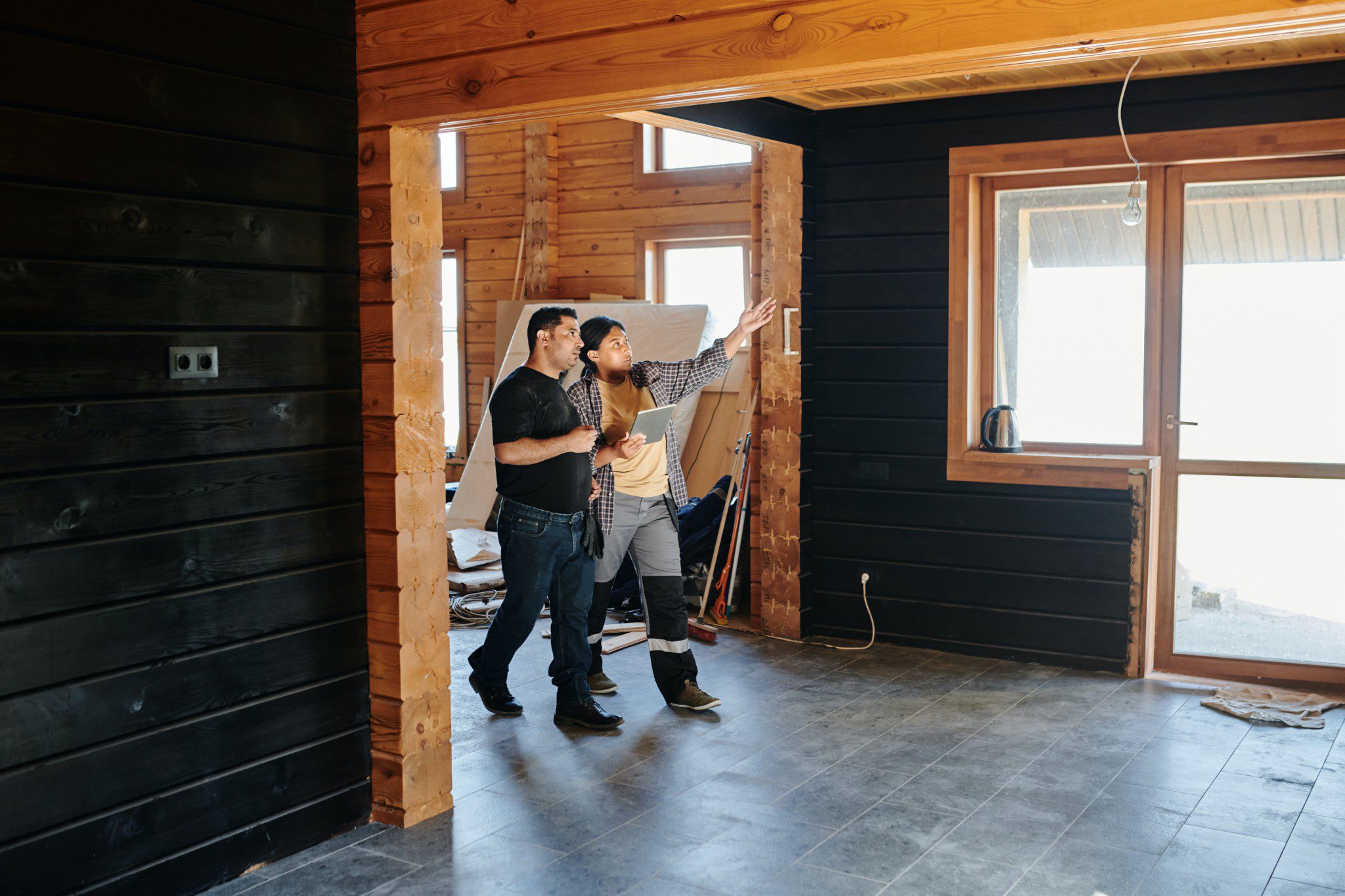 Home remodels come in all shapes and sizes! When you remodel your home, that means you are doing one or more of the following:
Adding (or downsizing!) space
Changing your floor plan
Upgrading your appliances and fixtures
Increasing your home's energy efficiency
Improving your home's resale value
Among the more difficult home remodels, homeowners build extensions onto their home to add bedrooms or recreation areas; you may also plan to demolish a room or area in your home that isn't used to increase the yardage of your property. Sometimes, you may hate your floor plan all together after years of enjoying the same old thing. Remodels can completely change the look and feel of your home while still keeping you put in your location. If you plan to remodel to prepare for a sale, you'll be seeing green in the form of a higher appraisal value come negotiation time. If you're looking for a simple, DIY remodel, consider swapping out light fixtures, sink vanities, bathtub and shower installations, and kitchen appliances. These are no-sweat simple upgrades that can take your space to the next level. If you're eager to go green and help save the planet, installing eco-friendly windows and doors or solar panels on your roof are great options as well!
Saving Money on Your Home Remodel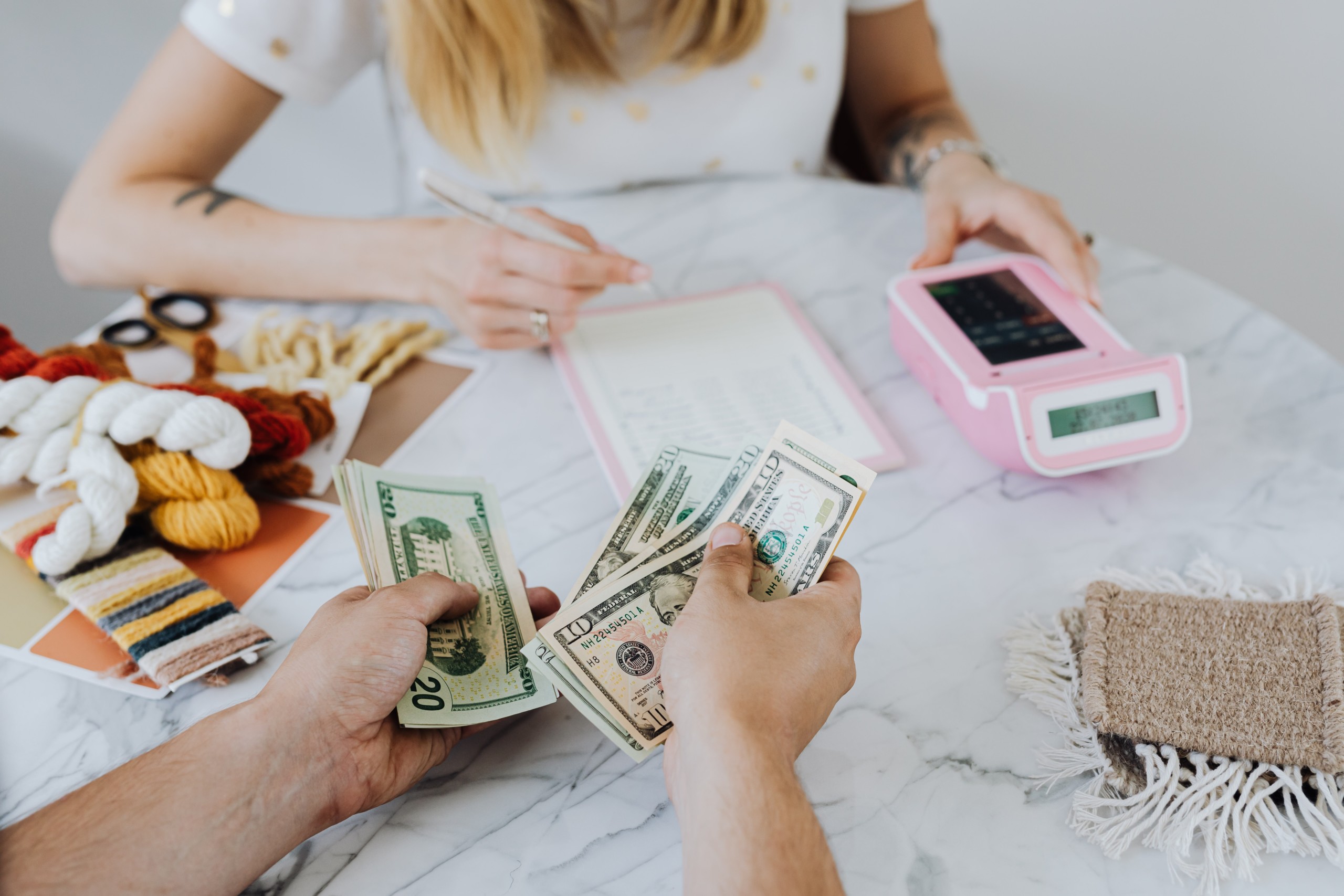 To save money on your first or next home remodel, weigh the most important question: would it save me more money to sell my house now, and find a more suitable place that fits my lifestyle, or would performing certain key changes in my current home be more cost-efficient? If you know that you don't plan on leaving your current pad, begin budgeting by considering all of the ways you can make your home more efficient. Some homeowners find that they don't really need all that much more space, just more functional installations. For example, you don't have to tear down walls in your kitchen to fit in a kitchen island. Consider replacing your cabinets with pull-out drawers; the less you need, the more square footage you free up.
To be wallet and planet-smart, plan to reuse some of your old lighting fixtures or drawer pulls and doorknobs. A simple coat of paint or funky repurposing can go a long way, and will cut down smaller costs so that you can focus on the bigger picture. For an even more budget-friendly renovation, consider cutting out delivery costs by picking up tools and materials yourself, doing your own demo, and prefabricated installations.
Where to Stay During Your Home Remodeling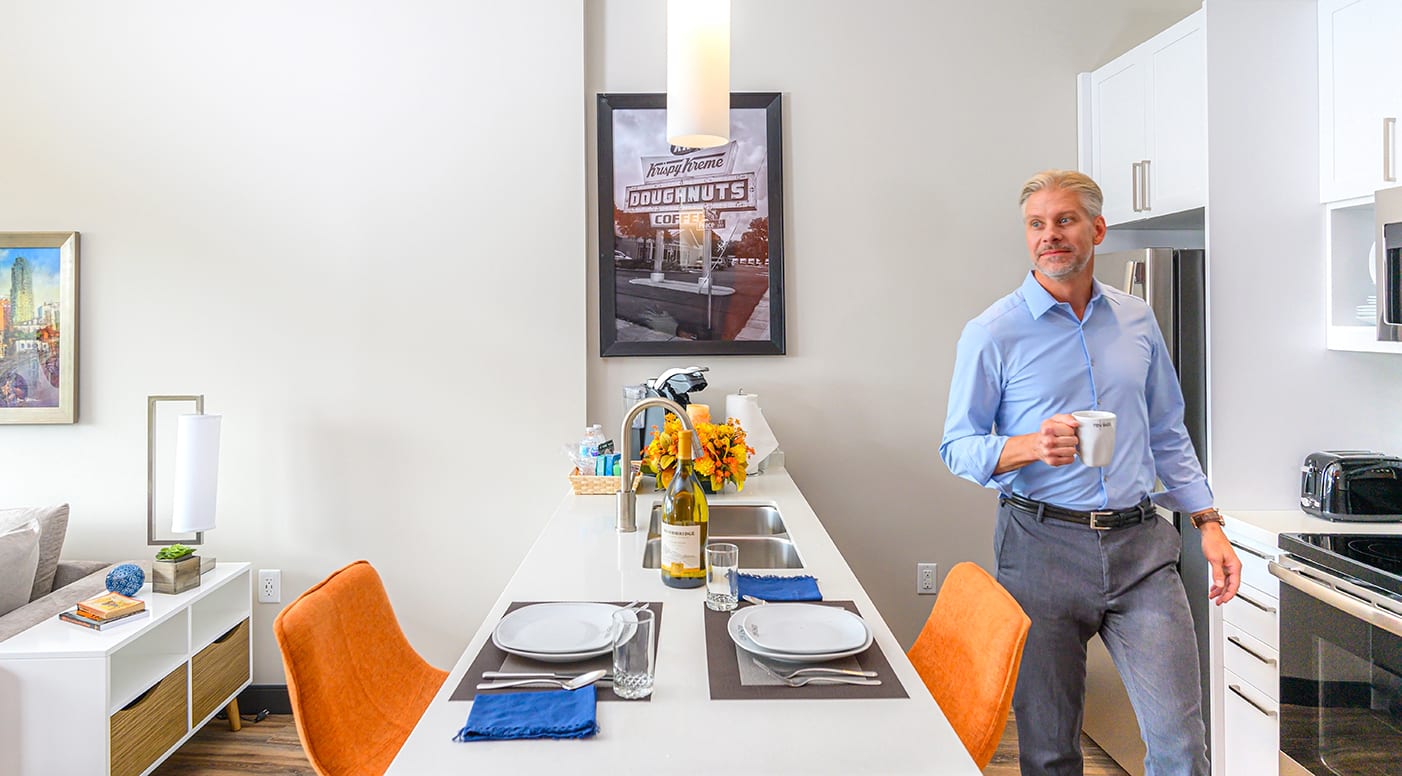 Planning on renovating your home this summer? If you're undertaking a big demo-and-reno project, Revisn can host you until your home is back to normal. Revisn not only corners the market in affordable, fully furnished short-term housing in Raleigh, but we also care about the needs of our guests. Every aspect of the Revisn experience has been designed for the 21st century traveler: the family, the solo businessperson, and the curious tourist.
At Revisn, we love pets! Every guest is welcomed to bring any pet under 40 pounds for a small deposit fee and signed pet agreement. Settle in with your furry friend without relying on a friend or boarding facility.
Advanced technology is not an afterthought at Revisn. It permeates every aspect of your stay while becoming utterly transparent. Control your stay via the Revisn smartphone app. Your smartphone becomes your building and residence access key, your connection to Revisn's 24-hour concierge, your source for dining and shopping recommendations, and your source for controlling every aspect of your residence.
Passionate about saving the Earth? Us too! Revisn's rooftop terrace is fitted with solar systems of 134 modules angled to maximize the amount of sunlight they will receive on its posterior roof. These panels produce 20% of our building's power. This is equivalent of 1,086 tree seedlings planted, 92,397 pounds of carbon offset or 102,722 miles not driven. Check them out for yourself when you stay with us by enjoying some time up on the terrace.
Call Revisn today at 919-999-0160 and take that first step to becoming a North Carolinian.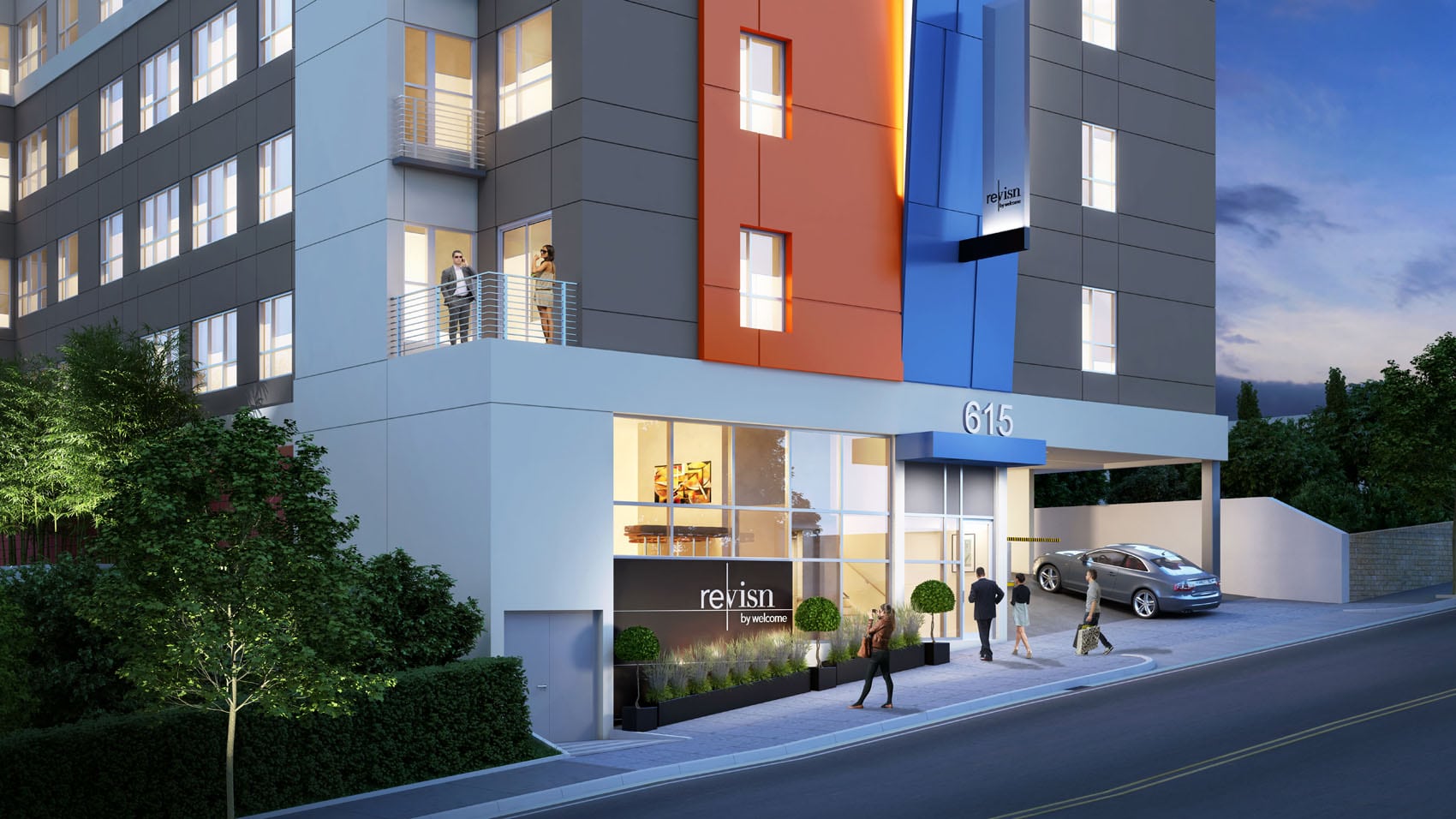 Fully-furnished, flexible lease residential experience with hotel amenities.Revisn is a perfect executive apartment for guests who need accommodations for 30 days or longer.