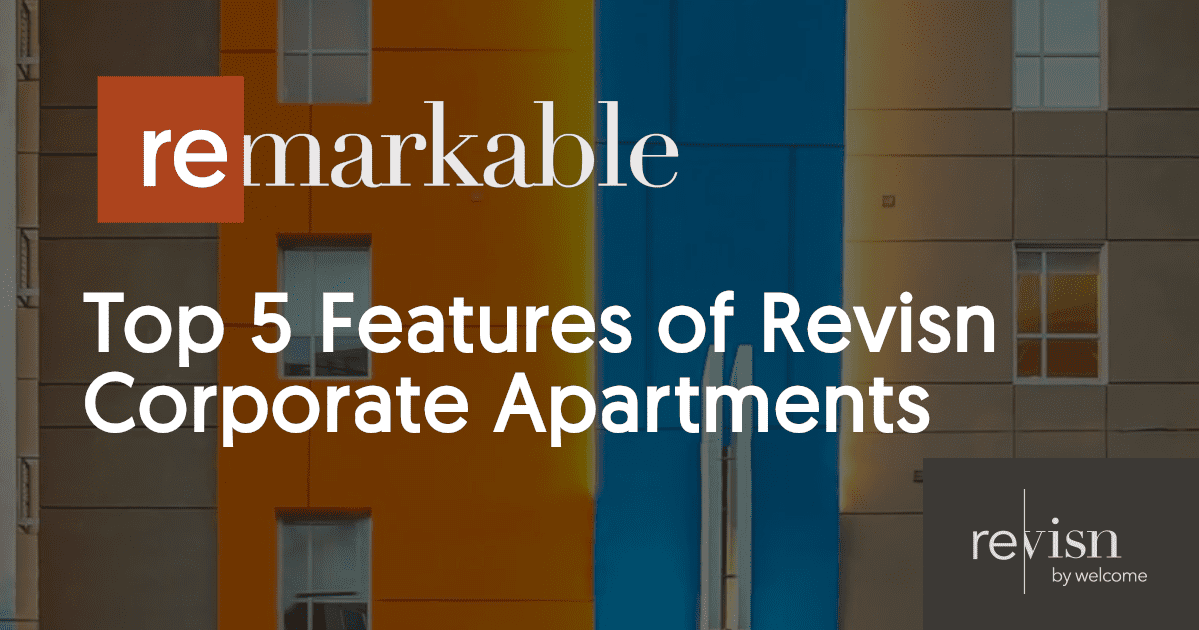 Revisn executive apartments come fully furnished and fully equipped, including modern designer furniture, high-end appliances, cutting-edge technology, and luxurious personal amenities. Our apartments include everything the 21st century traveler requires for short to longer term stays. While there is plenty to love about our short-term apartments, we have selected our top five favorite features of our residences.
Fully Equipped Kitchen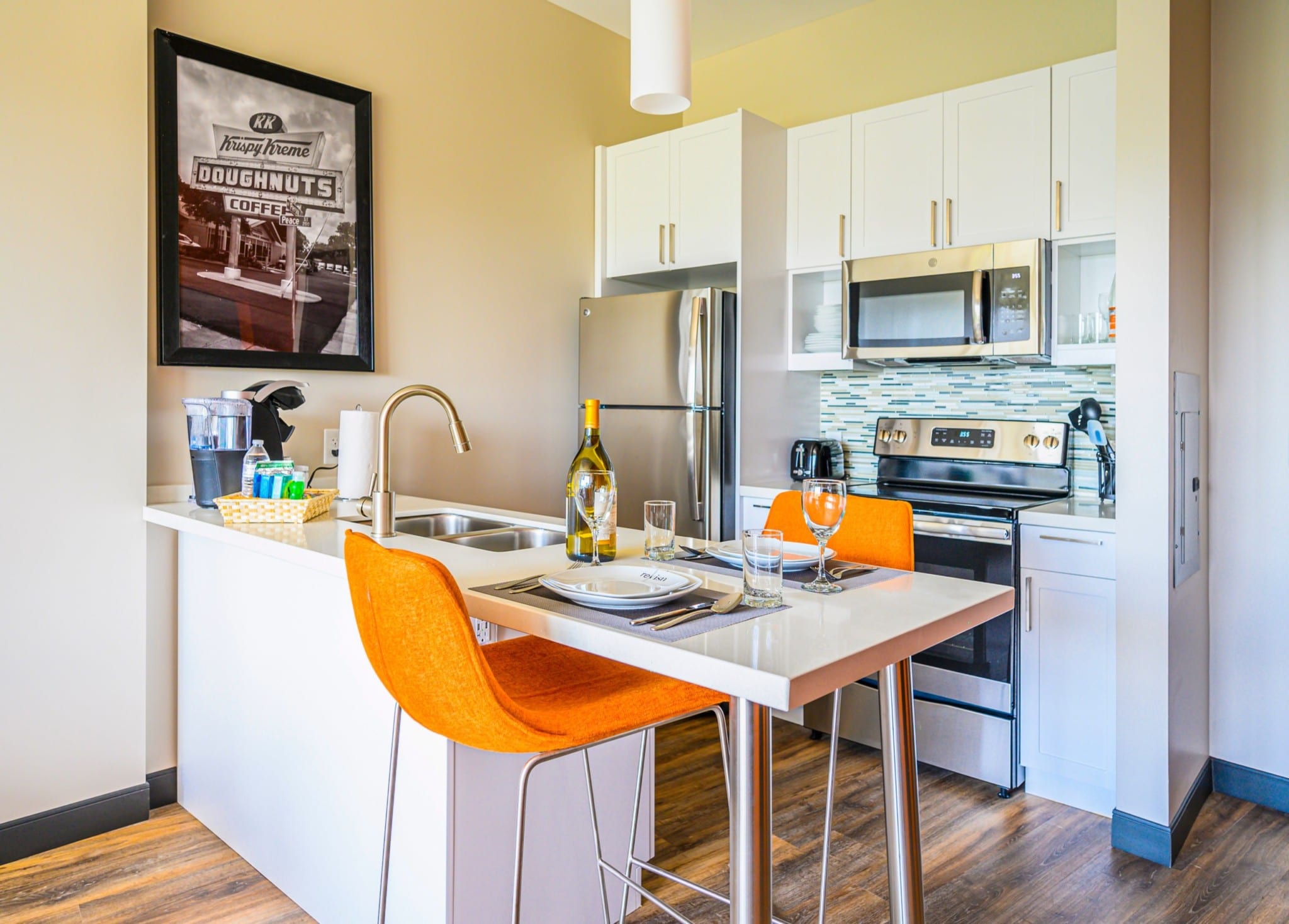 Kitchens are well-equipped with GE Appliances, cookware, dishes, glasses, utensils, and a welcome basket including Starbucks coffee on your arrival. Cook healthy meals in our fully furnished kitchen with all flatware, crockery, and other utensils necessary for the perfect dinner. You would never find that much thought and care at an extended stay hotel that provides you with bare minimum furnishings, leaving you to fish around in storage for pots and pans.
Enterprise Grade Wi-Fi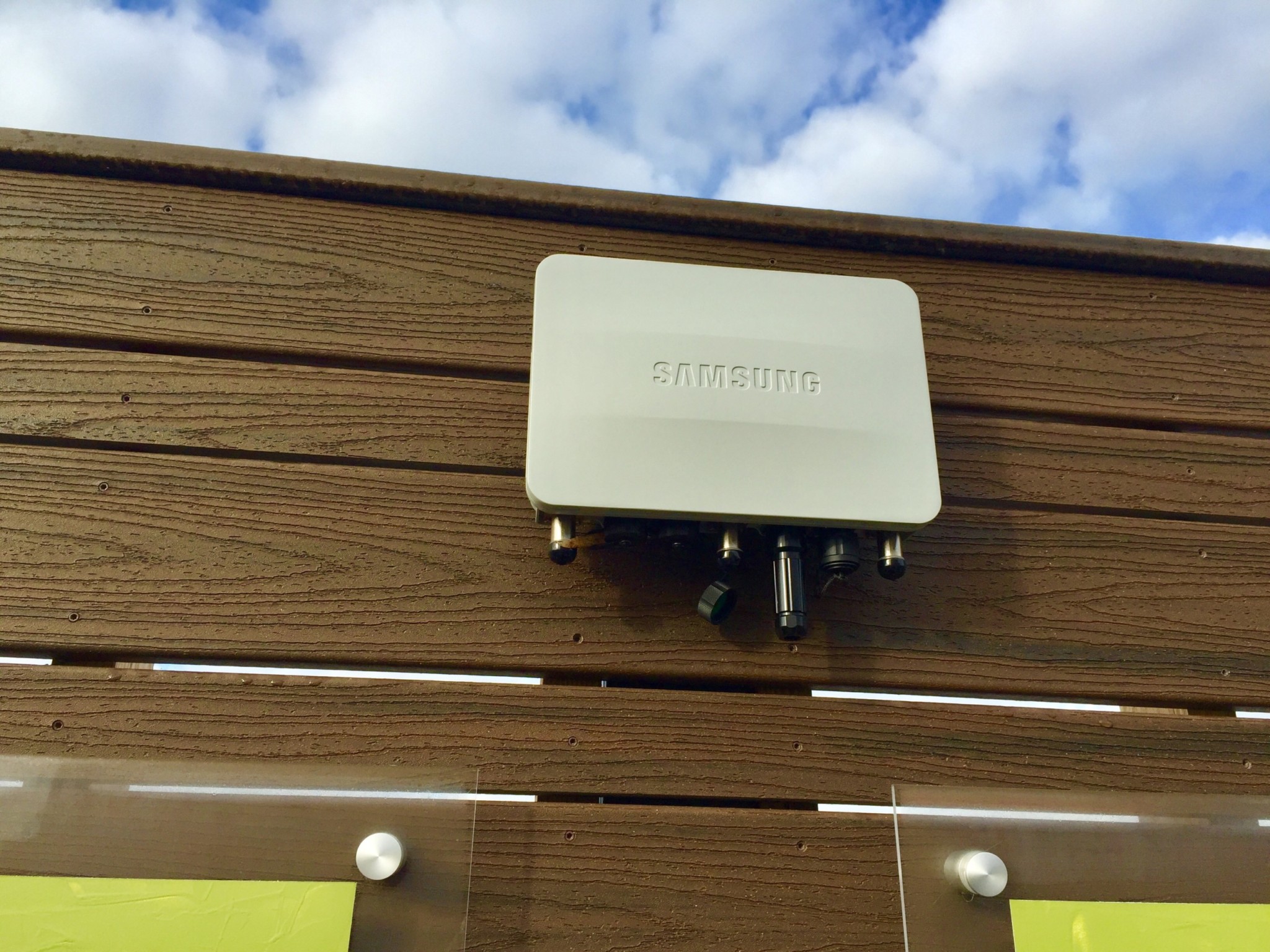 Revisn finds that today's guest travels with at least 3 or more devices and expects fast, reliable connectivity to check emails, stream music, watch movies, and video chat. We understand that free Wi-Fi is not a luxury, but a necessity. To provide an industry-leading Wi-Fi experience, Revisn has ensured that guests have access to an enterprise-grade Wi-Fi network linked with their reservation to provide personalized, faster, safer, and simpler connectivity. Even our rooftop terrace includes access to our high-bandwidth network!
Custom Mattresses and Linens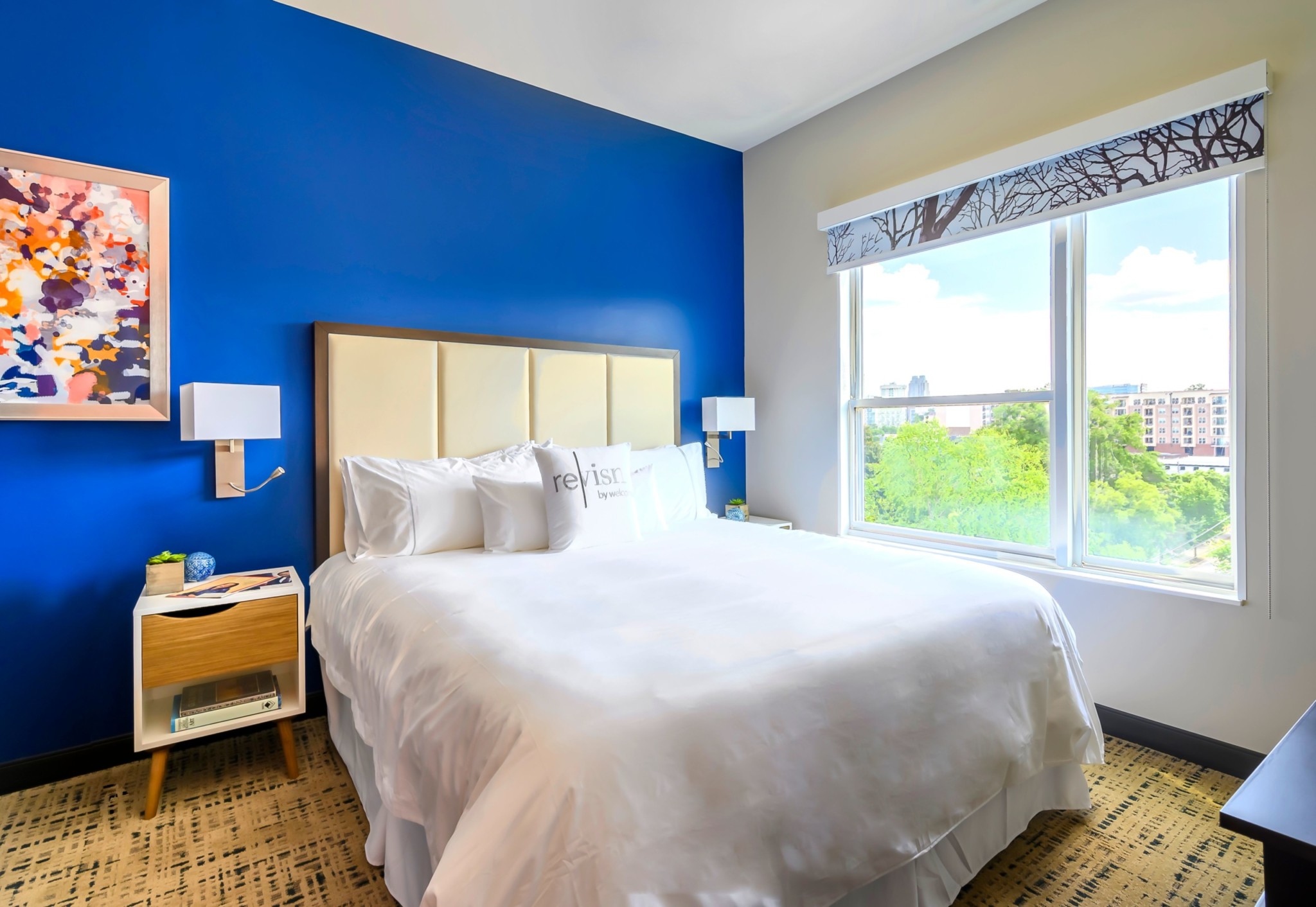 The most common question we get at Revisn?
"Where can I buy your mattresses and pillows?"
The custom-designed mattresses and pillows at Revisn are not too far off from sleeping on a cloud! Enjoy a restful night's sleep while you are on location for a job, relocating your family, or just visiting the area. Our bed linens are custom-selected and just as soft and relaxing. We dare to say our pillows and mattresses are the most comfortable in the world, and the only way to enjoy them is to book a stay at Revisn!
LG Two-in-One Washer and Dryer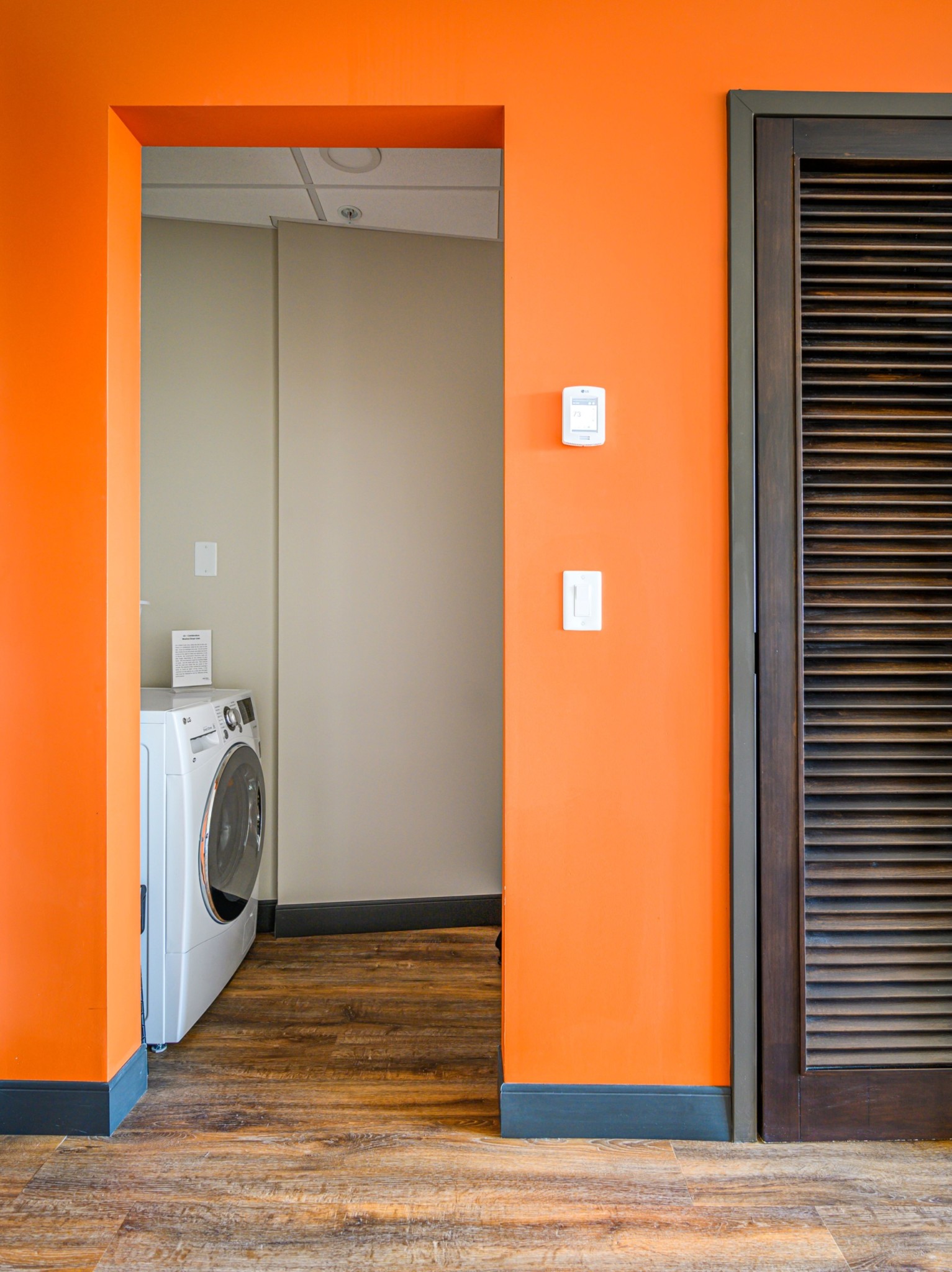 Each executive apartment includes the highly energy-efficient LG Two-in-One washer/dry combo. Safe-saving and energy-reducing, your in-room washer and dryer takes the guess work out of your corporate stay. Never visit a laundromat or hotel washroom again when you book Revisn. Our apartments are designed to resemble your home, including your appliances. Rest assured all of your needs will be taken care of here.
Rooftop Terrace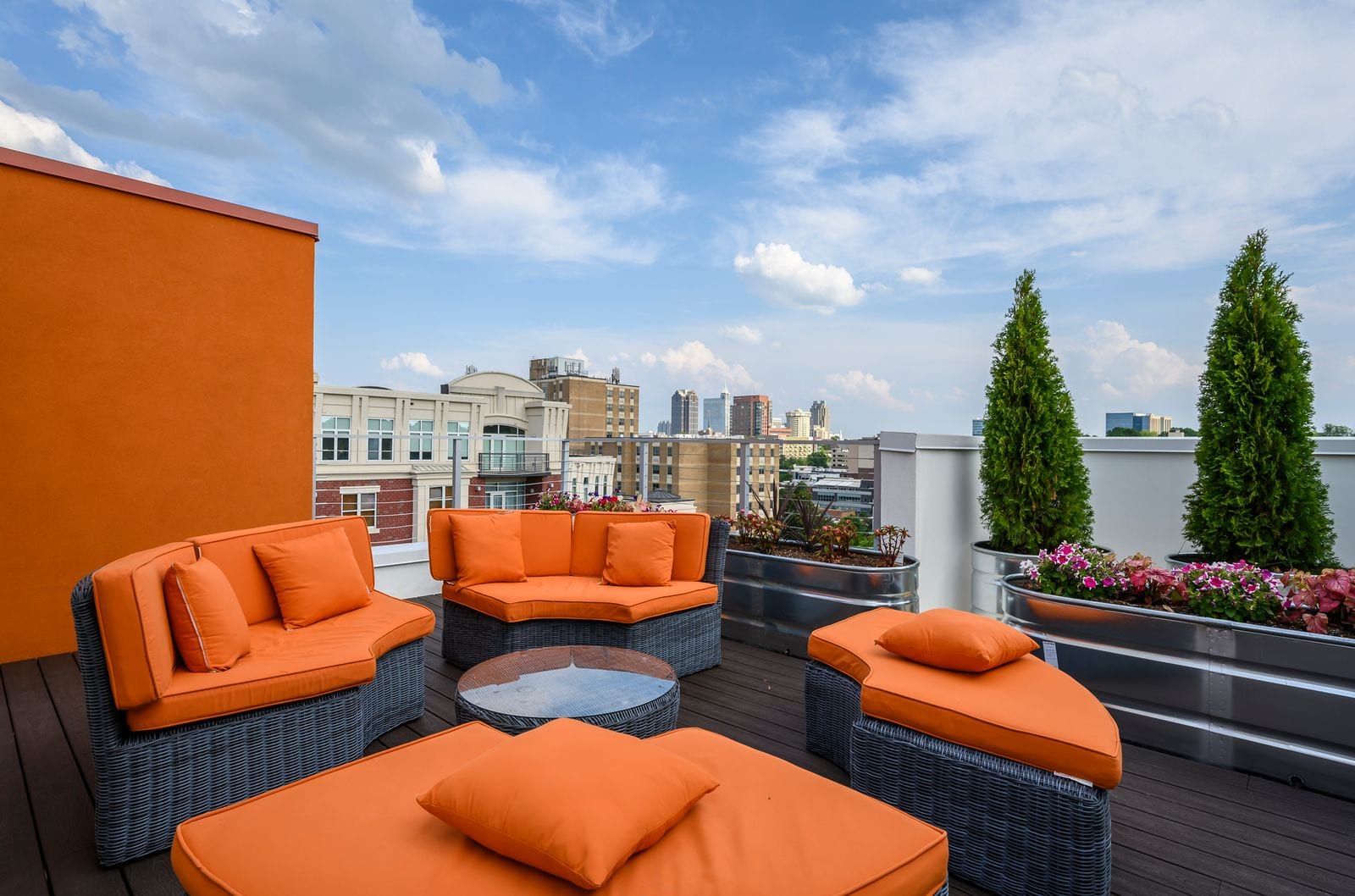 Breathtaking city skyline views await you at our open-air, furnished rooftop terrace. Catch some rays while you work from home with our enterprise-grade Wi-Fi coverage. Enjoy drinks and socializing with friends while you enjoy the sunset six stories up!
The terrace is also outfitted with solar panels to maximize the amount of usable space in our building and to reduce energy waste and costs. Our rooftop terrace is fitted with 134 modules angled to maximize the amount of sunlight they will receive on its posterior roof. These panels produce 20% of our building's power. This is equivalent of 1,086 tree seedlings planted, 92,397 pounds of carbon offset or 102,722 miles not driven. Check them out for yourself when you stay with us by enjoying some time up on the terrace!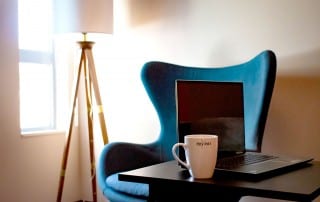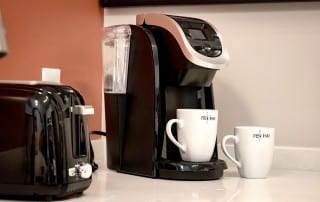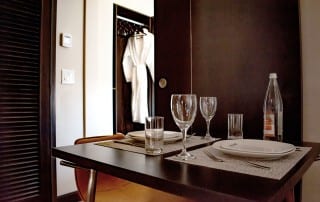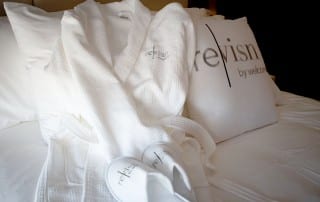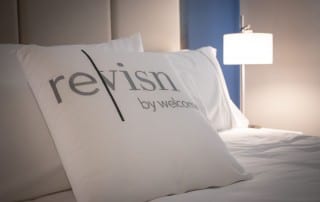 Need an executive apartment in Raleigh, North Carolina?
Revisn has got you covered. Our executive apartments come fully furnished and fully equipped, including modern designer furniture, high-end appliances, cutting-edge technology, and luxurious personal amenities. For everything else, just ask our 24-hour concierge.
Stay a few weeks or a few months while you explore the city. The flexibility of Revisn lets you decide when your stay beings and ends without being locked into calendar months or long-term leases. All you need to bring is a toothbrush and your clothes. We provide the rest. These short term apartments provide you the residential experience you've been looking for.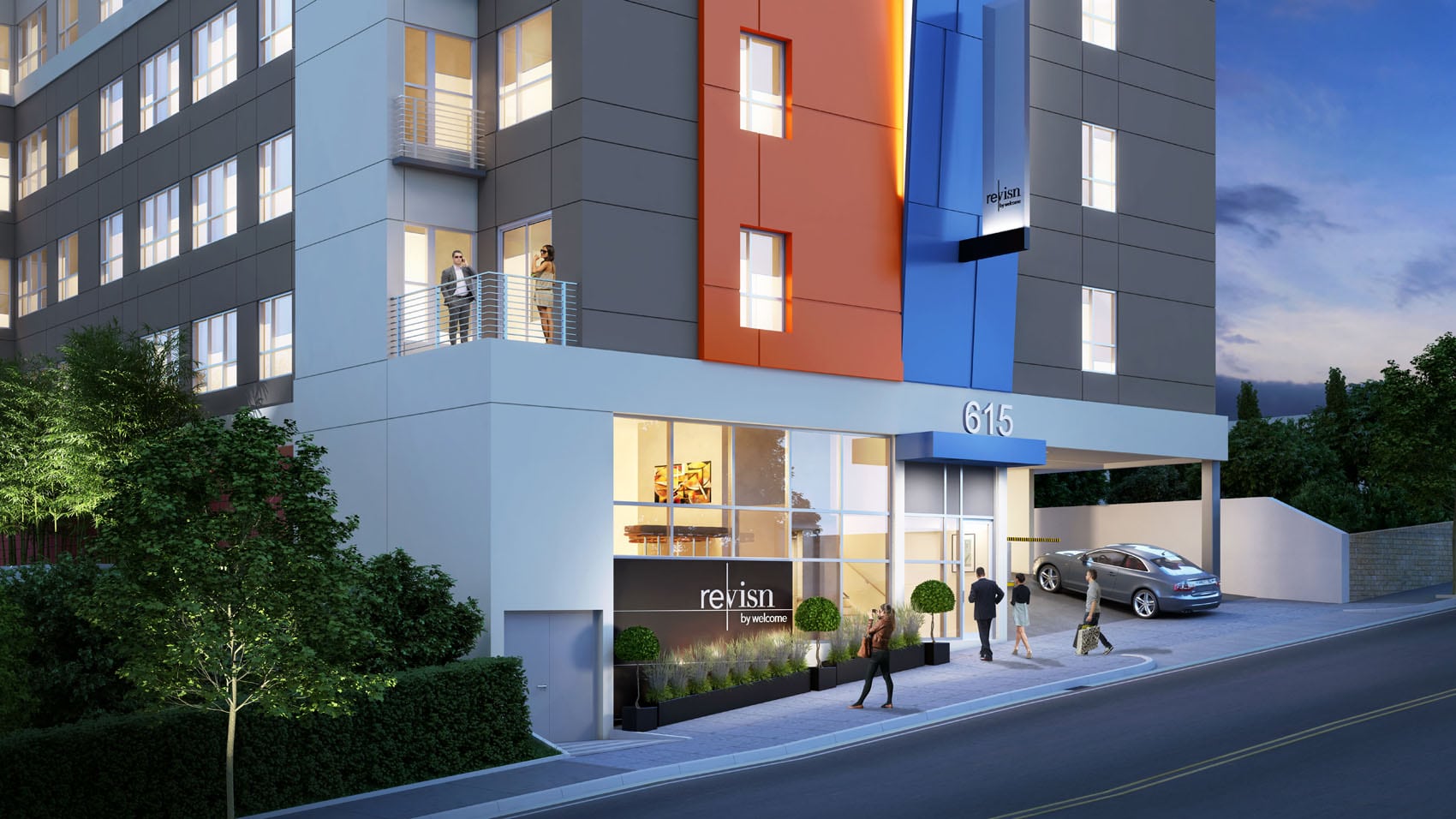 Fully-furnished, flexible lease residential experience with hotel amenities.Revisn is a perfect executive apartment for guests who need accommodations for 30 days or longer.