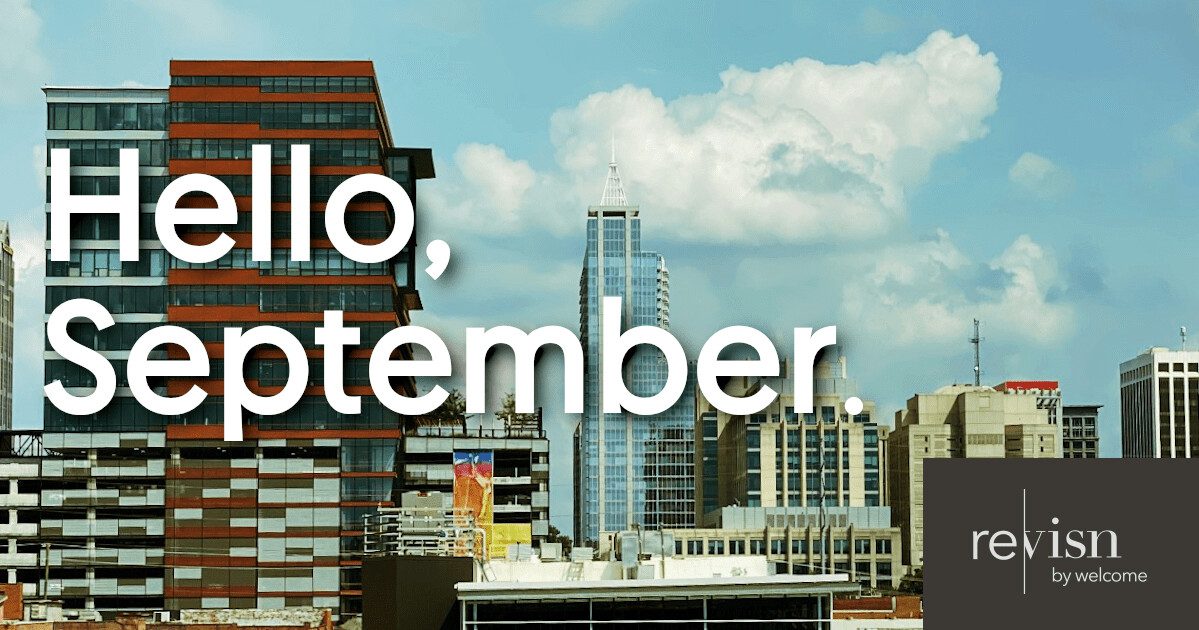 Brought to you by Revisn
 Your 30-Day Short Term Fully Furnished Rental Option
Hello@revisn.com or (919) 999-0160
While the globe keeps turning, Raleigh continues to adapt to our new cultural landscape. Check out this list of things to know and do September in Raleigh, provided to you by Revisn short-term apartments in Glenwood South.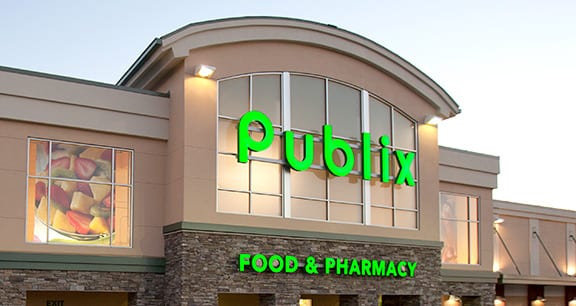 Open September 2
A brand-new Publix on the southeast corner of Peace Street and West Street opened its doors this month! Nestled in Glenwood South and merely steps away from Revisn, Publix is the neighborhood's first full-service grocer. Only one other Publix resides in Raleigh, so our neighborhood is honored to be the home of their latest location. Shop Publix to craft your next fresh, healthy meal in your Revisn short-term apartment.
All Month
Coronavirus testing is now more accessible than ever. Get the quick, easy, and painless test at your local pharmacy, or use the official locator by the North Carolina Department of Health and Human Services to find your nearest public testing site this September in Raleigh. The coronavirus test is free through these events and does not require insurance. Schedule your appointment today if you are feeling any coronavirus symptoms, including but not limited to fever, shortness of breath, body aches, and fatigue.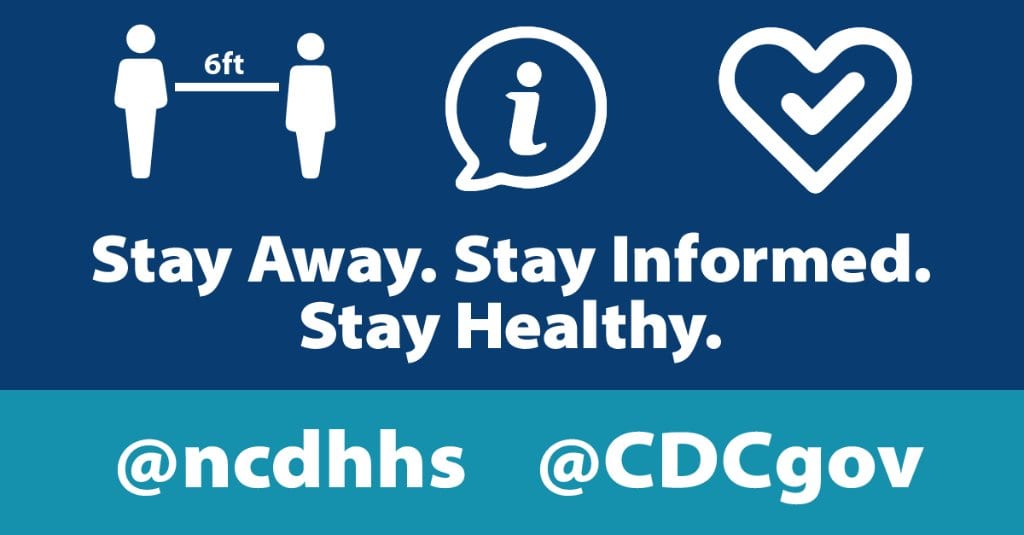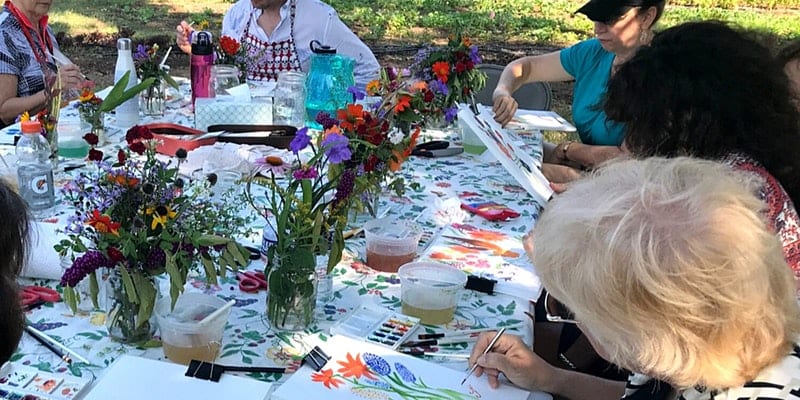 September 26
No experience needed! Join seasoned x artist Annelies M. Gentile of Conduit for Change at the Well Fed Community Garden for an outdoor creative experience like no other. Socially distanced, safe, and fun, Art in the Garden is the new hit community event for getting out of your comfort zone and creating.
What to bring, from their website:
A little (or a lot) intimidated by creativity? Don't be, just come as you are. Allow the magic of the moment to take you on a journey that will feed your heart, soul, and tummy!
Watercolor kit is provided or bring your own favorite creativity supplies
Oil, acrylic, watercolor, pencils, camera, OR iPad for digital painting
Canvas, easel, or small table (small lap board will be provided)
A basic watercolor kit will be available to use if you don't have your own supplies
Every Wednesday in September
The Coastal Credit Union Midtown Park is home to the weekly Wellness Wednesdays events hosted by North Hills! Socially-distance out on the lawn for this weekly fitness series with an alternating theme, from Pure Barre to yoga and cycling! This ongoing evening event is perfect for those of us who are tired of getting our exercise at home or in our neighborhoods. For a change of scenery, register now for an upcoming Wellness Wednesday event!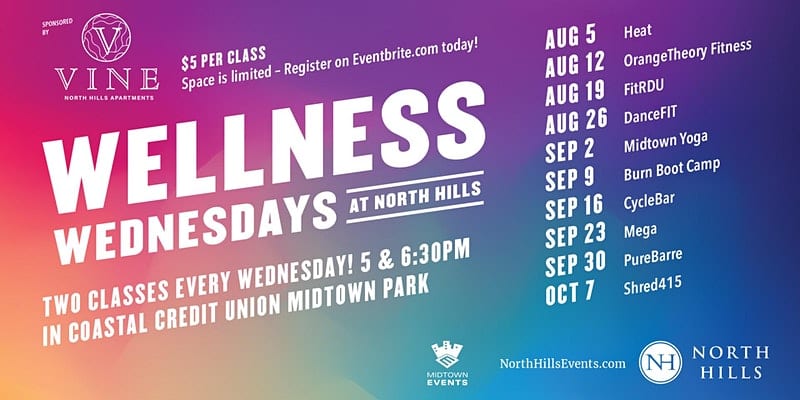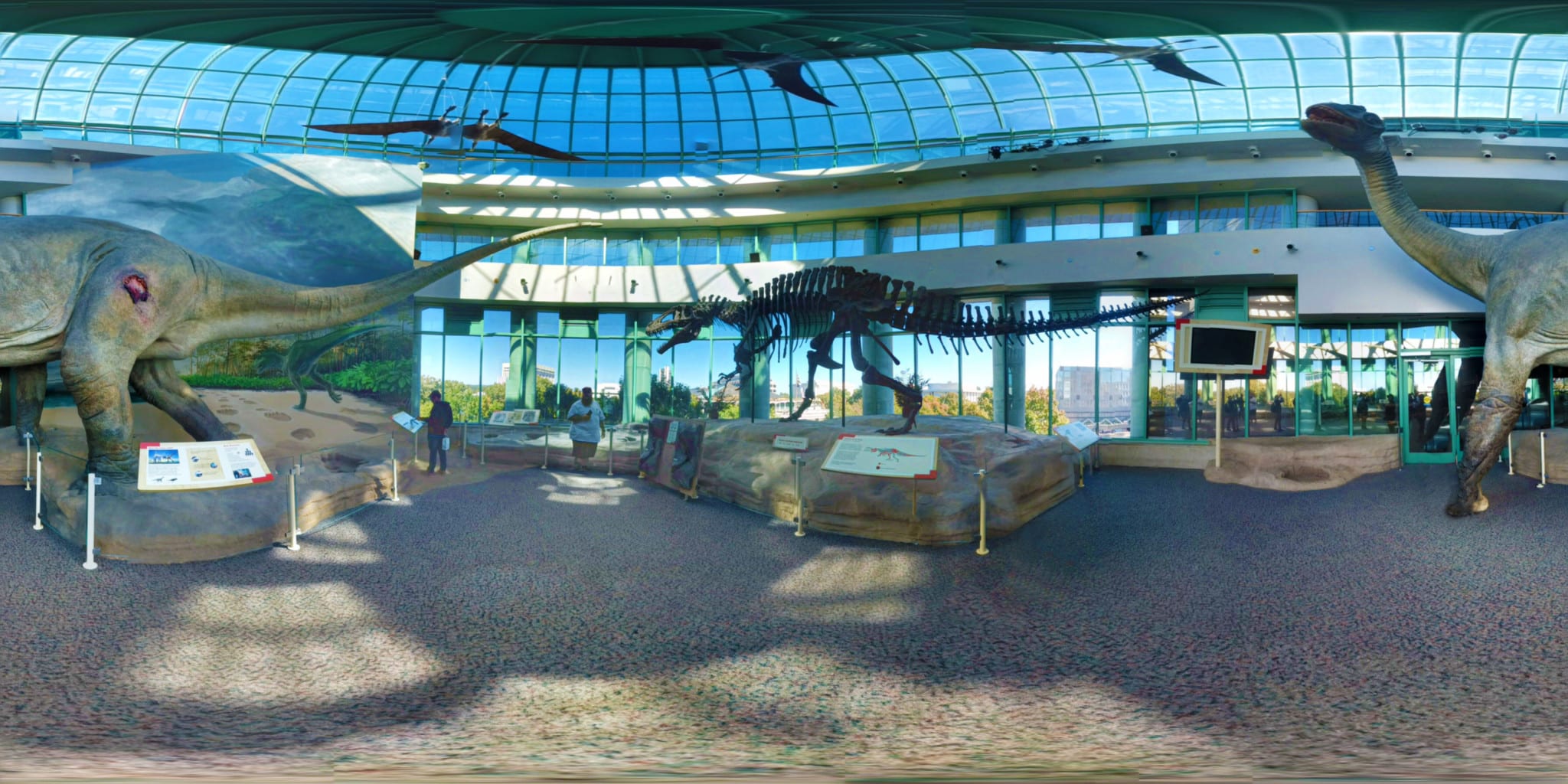 North Carolina Museum Re-Openings
Open now!
Miss exploring hidden treasures in the many museums and exhibits Raleigh showcases? We've got great news! Many Raleigh museums are re-opening with stringent social distancing and sanitization protocols put in place to keep Raleigh safe and educated. City favorites like the North Carolina Museum of Art, the Museum of Natural Sciences, and Marbles Kids Museum are back open for business and awaiting visitors with curious minds. Indulge your inner history buff or art nerd at all of the exceptional museums our great state has to offer!
September 14-19
BugFest is a favorite annual event among Raleighites. The with advent of COVID-19, large-scale events like BugFest have typically been postponed or canceled. This year, however, BugFest goes fully virtual with an ongoing online event September 14 to 19. Each day is themed, from Mosquito Monday to Prime Crime Friday. Join in on the festivities today!
From their website:
This year BugFest will go online … a Virtual Infestation!  Join us as we interact with entomologists from North Carolina and around the world to learn about the fascinating world of bugs. We will have SIX days of buggy adventures as we celebrate our theme arthropod … THE FLY!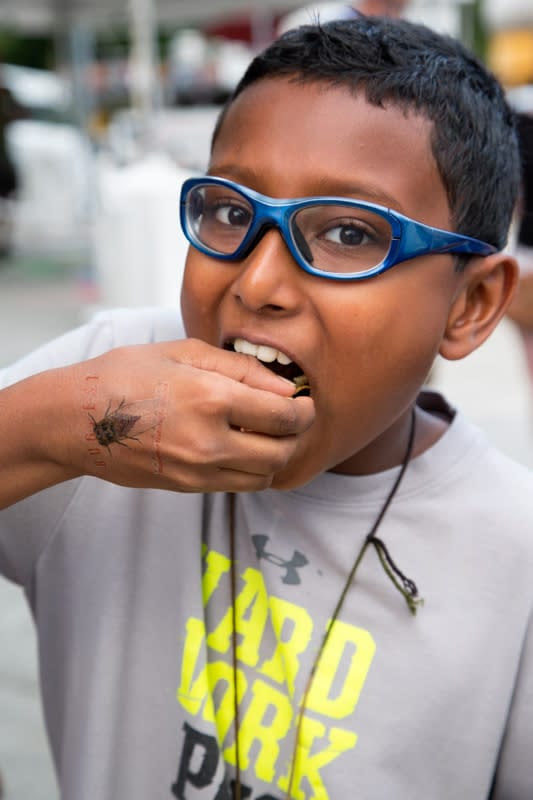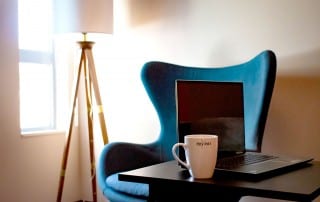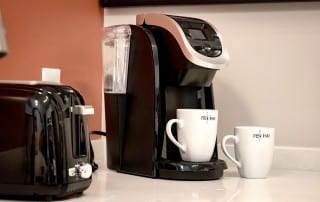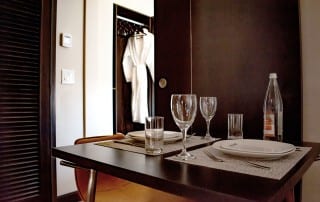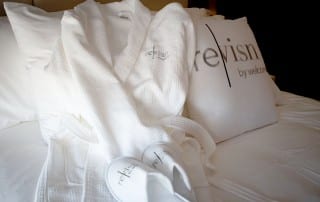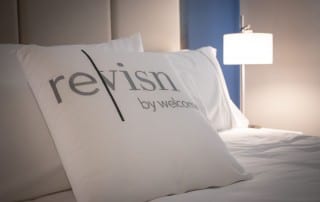 Need somewhere to stay this September in Raleigh?
Revisn has got you covered. Our executive apartments come fully furnished and fully equipped, including modern designer furniture, high-end appliances, cutting-edge technology, and luxurious personal amenities. For everything else, just ask our 24-hour concierge.
Stay a few weeks or a few months while you explore the city. The flexibility of Revisn lets you decide when your stay beings and ends without being locked into calendar months or long-term leases. All you need to bring is a toothbrush and your clothes. We provide the rest. These short term apartments provide you the residential experience you've been looking for.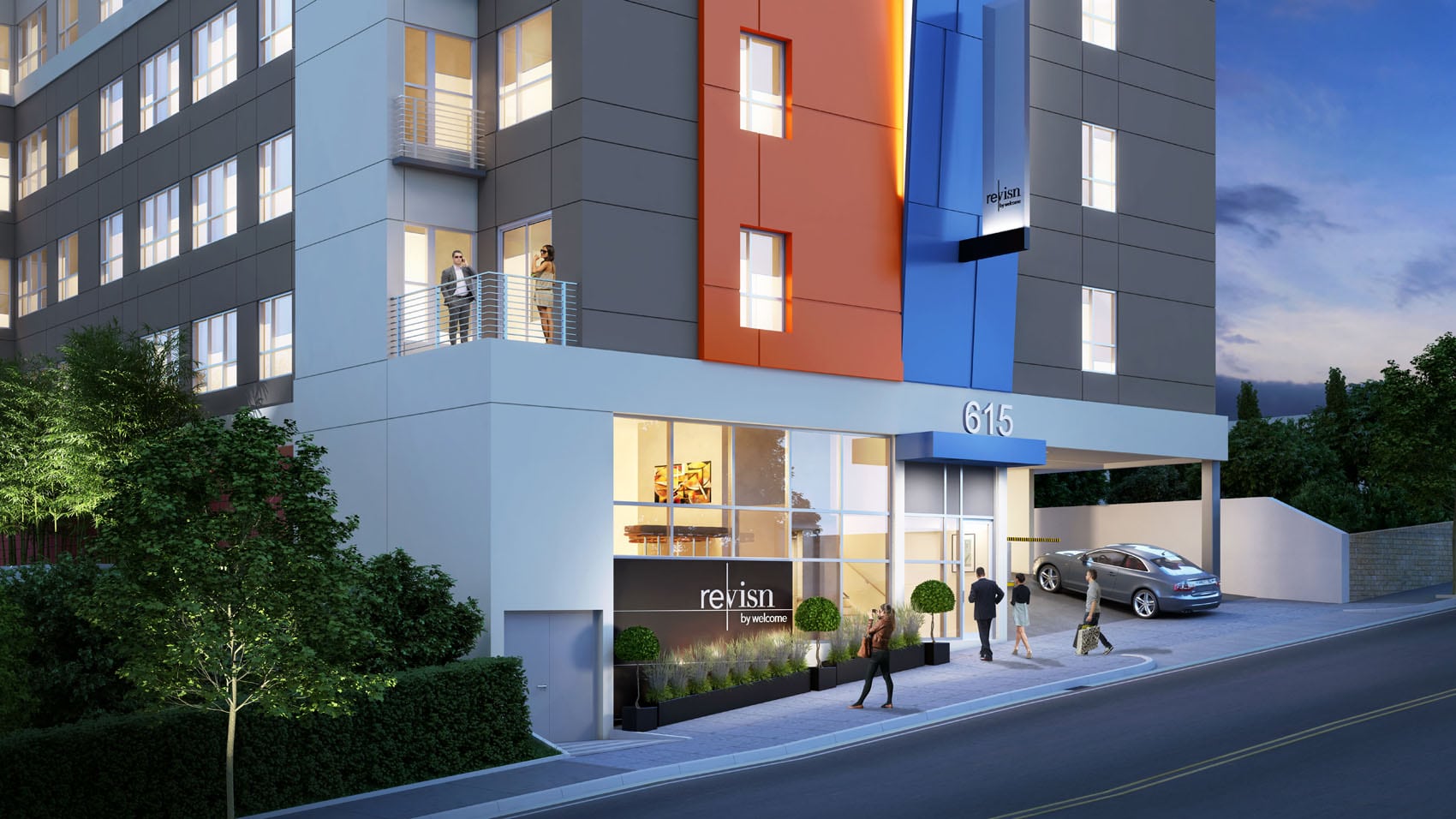 Fully-furnished, flexible lease residential experience with hotel amenities.Revisn is a perfect executive apartment for guests who need accommodations for 30 days or longer.