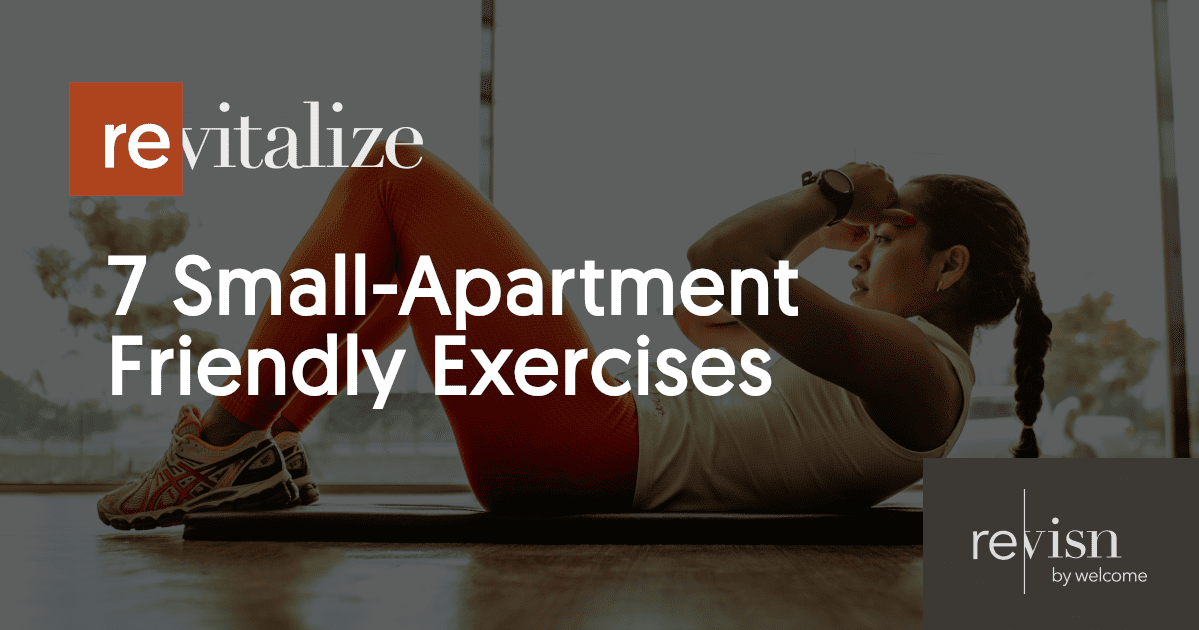 If you are a young professional, renting couple, or small family just trying to maximize your space, you may have realized finding time and space to exercise at home is difficult! Stretching into a new yoga pose and hitting the wall? No space for your fold-up exercise bike? No worries. Revisn has the best tips for you to make the most out of your small space to keep you exercising and engaged in fitness.
Stretches
Before you perform any exercise, even something as simple lifting weights in your bedroom, you must stretch the muscles you intend to work out. Forgetting to stretch can lead to pain and injury if those muscles have not been strenuously utilized in awhile. Stretch out your full body or concentrate on some specific muscle sets so you can avoid hurting yourself in the long run.
A 7-minute stretch routine we recommend:
Child's pose – 30 seconds
Ab stretch – 30 seconds
Cat-cow pose – 30 seconds each
Hip stretch – 30 seconds on both sides
Bound angle pose – 30 seconds
Lower back stretch – 30 seconds
Standing forward bend – 30 seconds
Low lunge pose – 30 seconds on both legs
Obliques stretch – 30 seconds on both sides
Clasp hand forward fold – 30 seconds
Yoga Exercises at Home
Roll out that dusty yoga mat hiding in your closet! It's time to finally use that thing, and you'll be surprised why you haven't been doing yoga before. Contrary to some belief, you can teach yourself yoga right at home with self-guided tutorials. Pay for an online livestream class, follow along with videos, or read some how-to instructions on how to start your own yoga flow and routine. Some exercises we like:
Some routines we like:
Body Weight Exercises at Home
Endless, simple exercises are available to you right now, right from where you're standing or seated, and you don't need any equipment to do them. How? Move your body! Cardio and strength training bodyweight exercises at home are easy, free, and accessible to anyone with an Internet connection.
Some exercises we like:
Squats
Bridges
Lunges
Reverse crunches
Leg raises
Chin ups
Shoulder presses
Chest squeezes
Climbers
Plank jump-ins
Exercise Equipment at Home
If you're a gym rat, but don't want to spring for another month's subscription fee, you can economically bring the gym home to you! Maybe those bodyweight routines just won't cut it for you, and you need an ideal replacement for your lost gym membership. We recommend investing in some at-home gym equipment that is small, convertible, and multi-purpose.  Amazon offers an array of free weights and dumbbells, kettle balls, and other portable and discrete exercise equipment. If you're not all about that muscle gain, we recommend investing in cardio equipment like an elliptical, treadmill, or the super-versatile and affordable DB Method to work out your whole body!
Jogging Exercises at Home
It almost goes without saying: jogging is one of the easiest and best exercises to guarantee your weekly cardio. Chances are you live in a neighborhood with sidewalks or a great shaded, woody area of town. Lace up those running shoes and hit the streets! There are plenty of apps to get the unseasoned jogger started, like Couch Potato to 5K, which was created with first time runners in mind.
Brisk Walking Exercises at Home
Walks are just as effective as running, if you know the proper form. Power walking may seem silly to the younger population as it's typically associated with seniors and mall walkers, but it is quite an effective workout. A heal-toe walking strategy, feet pointed forwards, is the key to maximizing your power walk. Keep arms moving at 45-degree angles and carry some free weights, and you'll feel the burn in no time!
Biking Exercises at Home
Find one on Craigslist or drag your old Huffy out of the shed! Biking is a largely popular pass time and for good reason: it counts as exercise, cheap and reliable transportation, and can bring people together! In Raleigh, you can enjoy biking along our massive system of greenways, hit up a larger nature preserve, or cruise the city! You can also find a neighborhood nearby that offers quaint, residential sights and more challenging uphill slopes. Bike exercises are entirely customizable!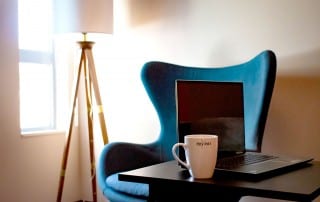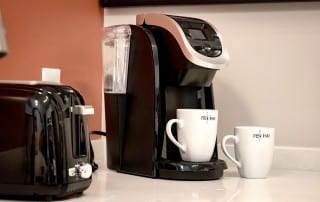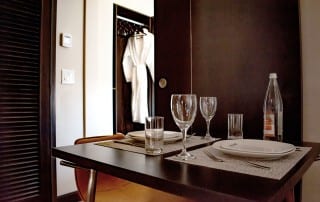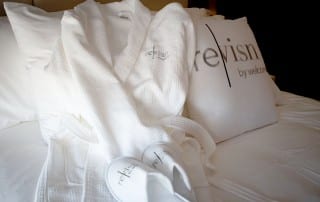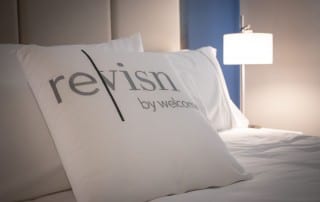 In need of a roomy, short-term apartment?
Revisn has got you covered. Our executive apartments come fully furnished and fully equipped, including modern designer furniture, high-end appliances, cutting-edge technology, and luxurious personal amenities. For everything else, just ask our 24-hour concierge.
Stay a few weeks or a few months while you explore the city. The flexibility of Revisn lets you decide when your stay beings and ends without being locked into calendar months or long-term leases. All you need to bring is a toothbrush and your clothes. We provide the rest. These short term apartments provide you the residential experience you've been looking for.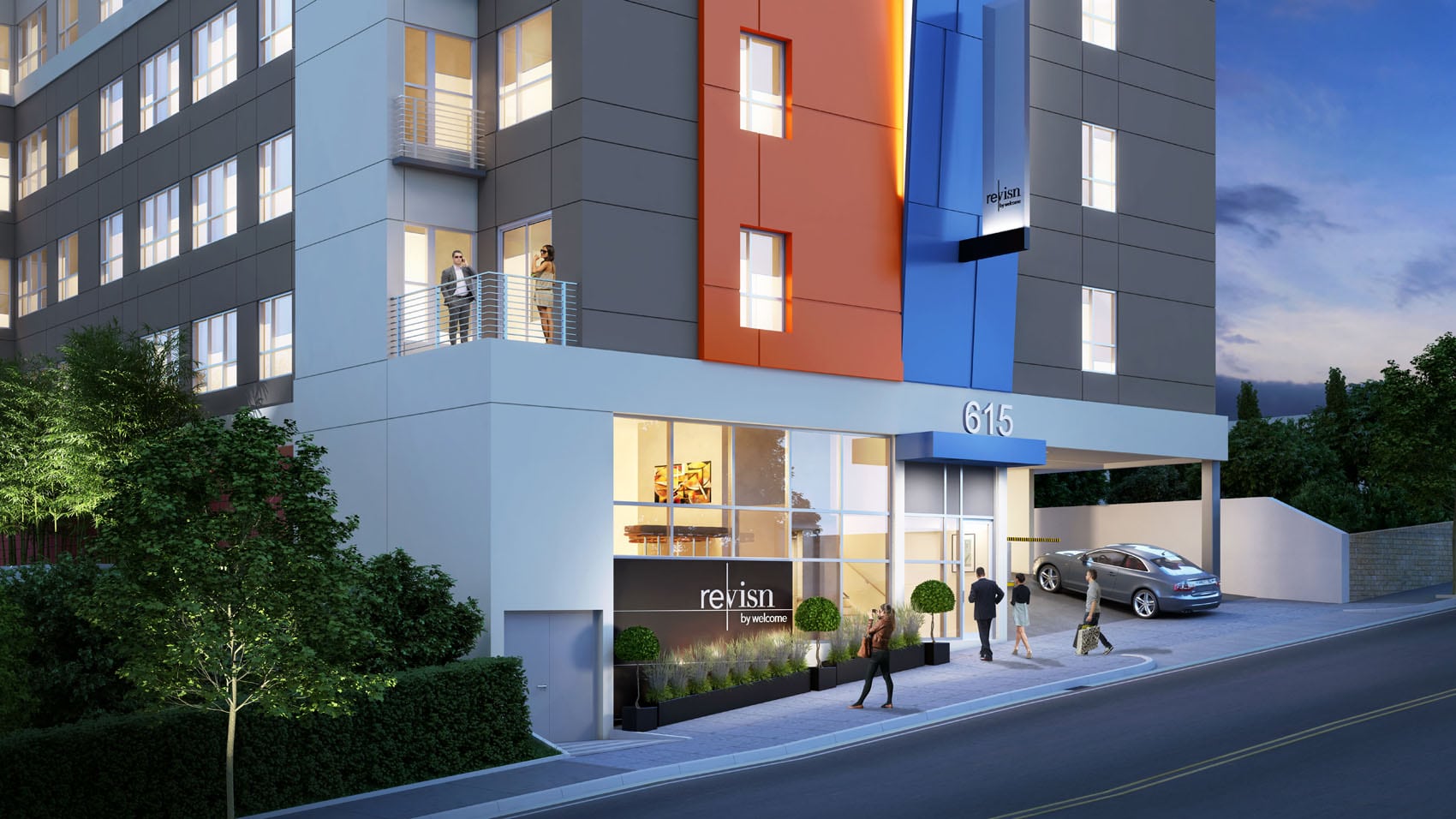 Fully-furnished, flexible lease residential experience with hotel amenities.Revisn is a perfect executive apartment for guests who need accommodations for 30 days or longer.